Areas All you need to know about Marbella
Mar 7th, 2021
Get to know: Marbella.
Marbella, a municipality of the province Malaga, is located on the Costa del Sol. The pleasant micro-climate allows you to enjoy roughly 325 days of sunshine a year. Protected on its northern side by the coastal mountains it offers a climate with an average annual temperature above 18 °C. This makes it possible to enjoy an active and outdoor lifestyle all year round.
Marbella is known as a glamorous resort town with many beach clubs and a buzzing nightlife, but has much more to offer. Once home to the Romans and Moors, Marbella is now a melting pot of cultures, with residents from 137 different nationalities. Whether you're looking for a luxurious lifestyle or an Andalusian rustic way of living, we have it all.
As a whole, Marbella is split up in various "districts": Puerto Banus, Nueva Andalucia, San Pedro de Alcántara, Marbella Center and East Marbella. Puerto Banús is famous for the spectacular yachts and the luxurious high end shops such as Louis Vuitton and Gucci, you will also find the well known high-end commercial centre "El Corte Ingles" here. The properties here are mostly apartments ranging in size and prices but all are located by the sea.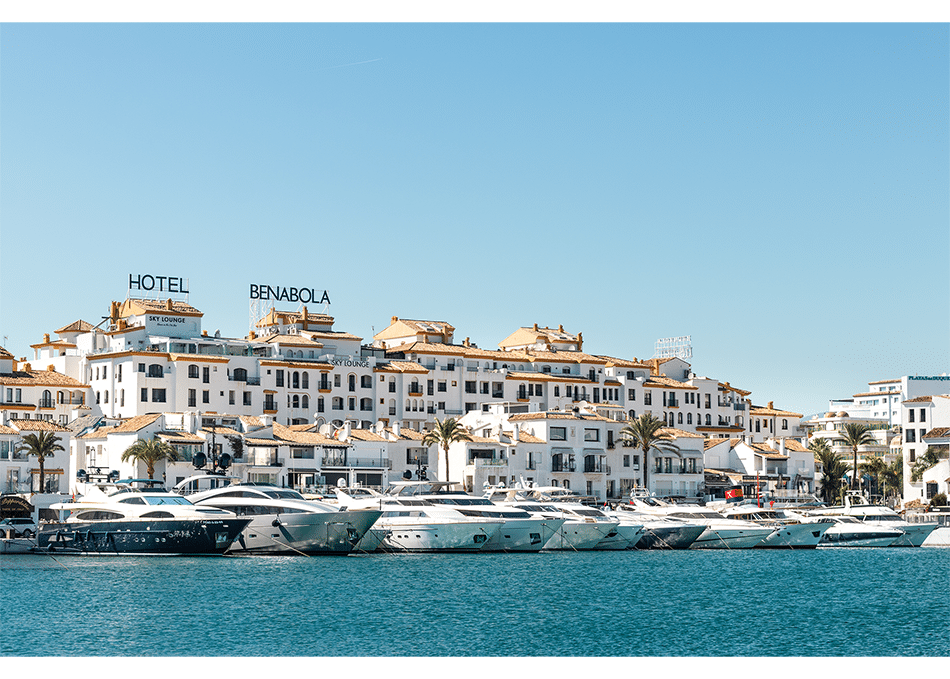 Nueva Andalucia is a residential area ideally situated within walking distance of Puerto Banus and within a 10 minute drive of both Marbella and San Pedro de Alcantara. It is the largest neighbourhood of Marbella. The eastern section includes more luxurious properties as they lie along the golf valley. The famous golf courses Las Brisas, Los Naranjos and Aloha golf are also located in this area. In the western part of Nueva Andalucia (La Campana village and La Torre de Andalucia) there are less expensive properties; apartments, townhouses and smaller villas.
Marbella is also home to a charming "Casco Antiguo" – the old town. Narrow streets, raditional architecture, tapas bars and boutiques make up this beautiful part of Marbella. On summer venings it buzzes with atmosphere and on winter days you can find the streets lined with the haracteristic Andalusian trees filled with oranges. Make sure to save a little time to stroll through the boutiques before heading for "churros con chocolate" at la Plaza de los Naranjos. The Marbella town is the closest you will get to a city feeling as many offices are located here. The properties around this area are mostly apartments.
The Golden Mile is one of the most luxurious residential areas in Marbella, 2 km west from Puerto Banus. Here you will find the best hotels in Marbella (Puente Romano Resort and Marbella Club Hotel), some of the most luxurious properties, tropical gardens, exclusive shops and restaurants and one of the nicest promenades on the Costa del Sol, perfect for a sunset walk or a run along the beach. The properties along The Golden Mile vary from apartments to spectacular villas. The location of this area is one of the best, as it's located right by the sea, with all amenities at walking distance and the best restaurants and night clubs right at your doorstep.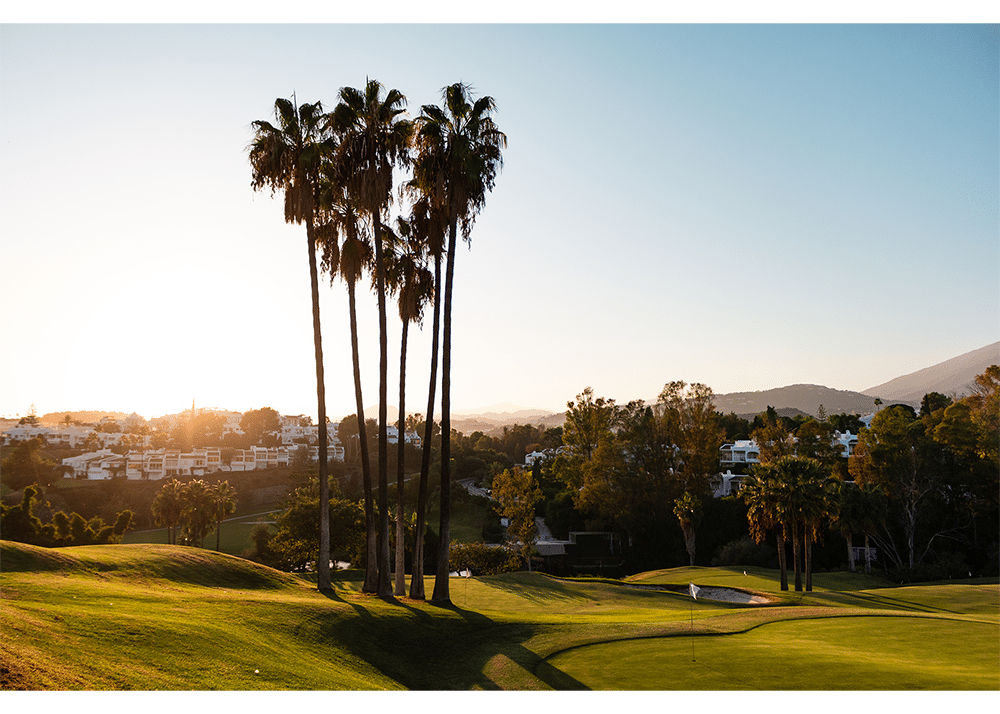 Not only is Marbella known for its beautiful beaches but also stunning mountain ranges and nature. La Concha Mountain can be seen from nearly any point in town. The peak is at 1200m and can be climbed right to the summit. The hike is a tough 6 hour climb, but is totally worth the view once you have reached the top. For those looking for shorter, family friendly hikes, check out the popular residential area of Benahavis, surrounded by nature reserves and full of beautiful trails.
Looking for a place to escape to for the weekend? You have the choice between long stretched white sand beaches by the Atlantic Ocean or beautiful snowy slopes. The two most well-known locations to visit for the weekend are Tarifa and Sierra Nevada. Tarifa, about an hour and a half drive away, is the most southern point of Spain and is located where the Mediterranean Sea and Atlantic Ocean meet. You will find the most spectacular beaches along this coast. Sierra Nevada, 2 and a half hour drive from Marbella, is a mountain range in Andalucia, is a popular tourist destination, as its high peaks make skiing possible in one of Europe's most southerly ski resorts.