Areas
Your complete Nueva Andalucia guide
Aug 30th, 2023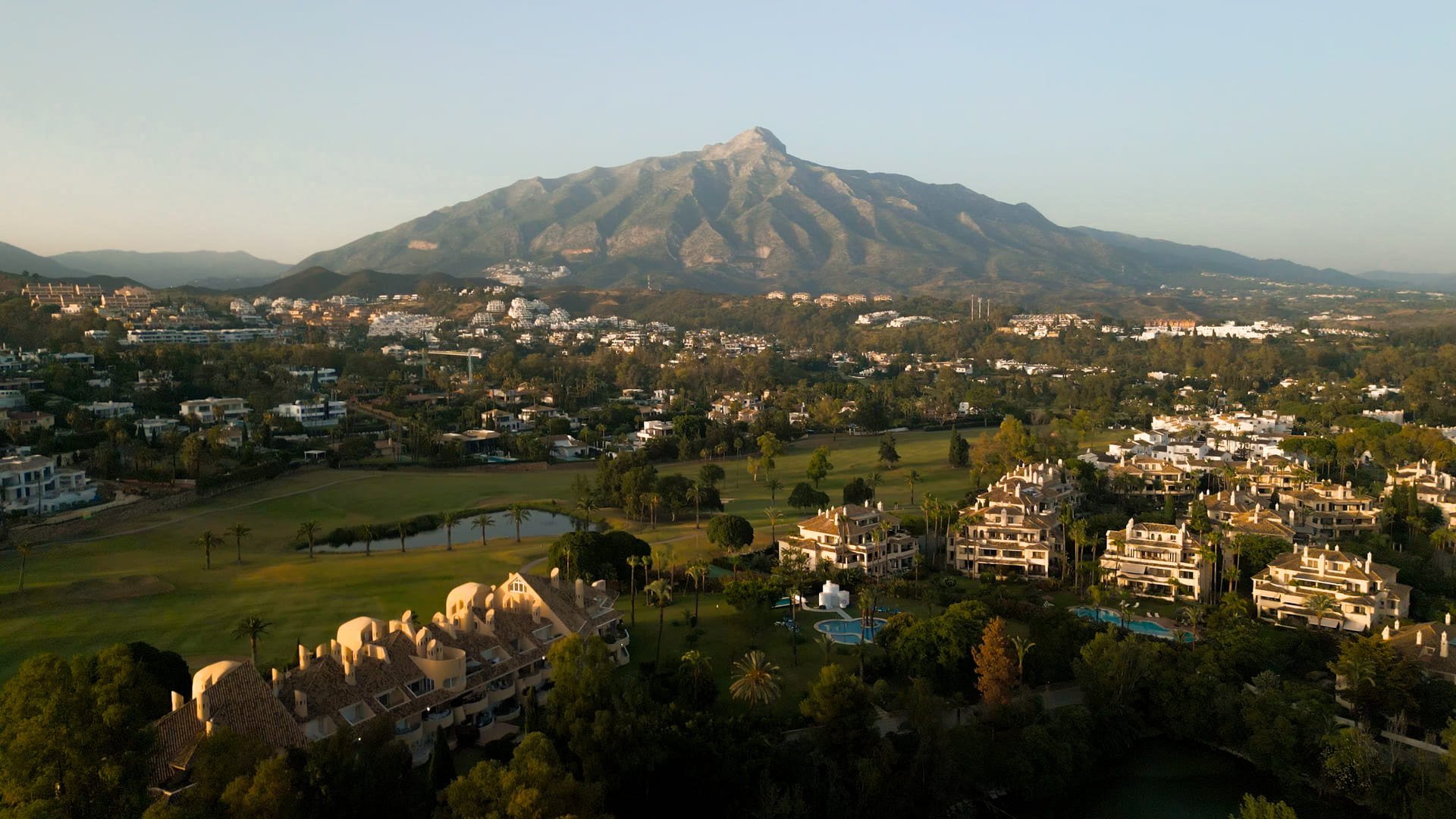 Discovering Nueva Andalucia: Marbella's Gem
This guide will tell you about what Nueva Andalucia is, where it is located and how the area came to be. Thereafter, we will guide you through the different sectors in the area, explain what type of properties you can find and what price range to expect. We will continue by telling you what makes Nueva Andalucia unique and what activities can be found in the area. Lastly, we will provide you with useful information about schools, shops and health care to give you a well-rounded overview of this gem.
Let us take you on a tour of Homerun Brokers home turf, Nueva Andalucia!
What is Nueva Andalucia?
Marbellas largest district
Area of 10.11 square kilometers
Family friendly
International
20.198 inhabitants
Upscale amenities
The Golf Valley
Nueva Andalucia is a prime district in Marbella. It covers a vast 10.11 square kilometers, setting itself apart as a unique, small-town gem. Perfectly positioned in the renowned Golf Valley, this district stands out. It's not only Marbella's largest but also a top residential choice in the Costa del Sol.
Its design emphasizes open spaces, showcasing Marbella's signature natural beauty. The area is well-planned with wide streets and essential amenities. It offers a peaceful ambiance, making it a top pick for those wanting to escape city chaos. Despite its tranquility, Nueva Andalucia is close to hotspots. Places like Puerto Banús and the Marbella Arena-Auditorium are nearby. As of 2022, over 20,000 residents call it home. This underlines its reputation as a perfect blend of relaxation and prime location.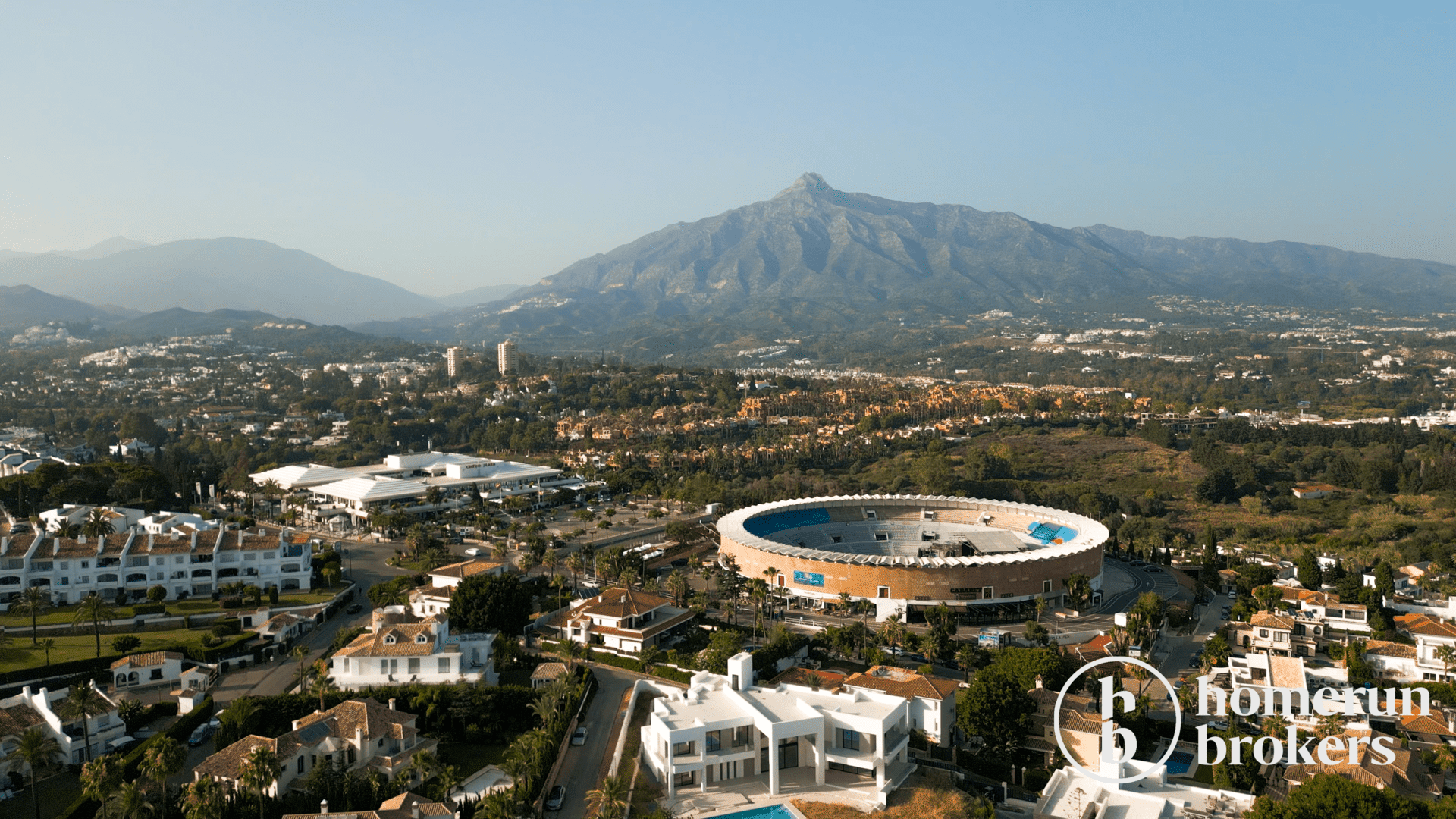 Nueva Andalucia offers many high-quality amenities. These include top-notch restaurants, stylish bars, designer shops, and modern gyms. With its mix of luxury and lively city vibes, it's a top choice for many. If you're after elegance, nature, and fun activities, this is the place.
The area is also known as the Golf Valley. Why? It's famous for its world-class golf courses and beautiful landscapes. Golf lovers from all over come here, and it's a host to major tournaments. Courses like Las Brisas, Aloha, and Los Naranjos stand out. They offer golfers great games and stunning Mediterranean views.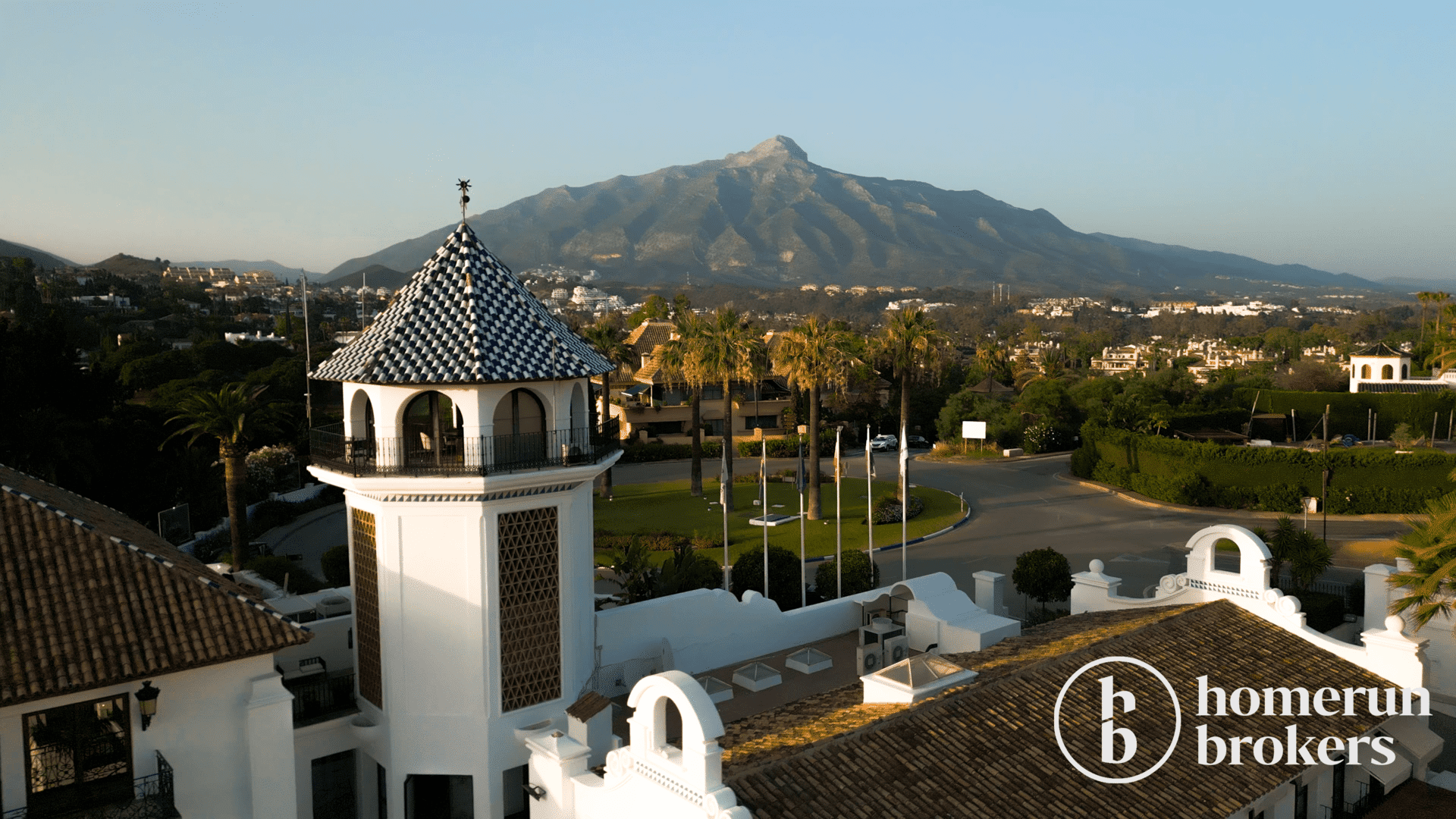 Where is Nueva Andalucia located?
Nueva Andalucia is located just 5 kilometres from Marbella's city centre on the Costa del Sol, in southern Spain's Malaga province. It's nestled between the stunning Sierra Blanca mountains and the beautiful Mediterranean Sea. This prime location offers residents amazing views. Homes facing east get a clear view of La Concha, Marbella's famous mountain. Plus, with over 300 sunny days a year, it's a beautiful place to live, close to everything one might need.
As Marbella's largest district, Nueva Andalucia is a lively community with plenty to offer. From top golf courses to fine dining, trendy bars, and designer shops, there's something for everyone. Its location and excellent schools make it a popular choice for families.
Travel is easy from Nueva Andalucia. Malaga Airport is just 47 kilometers away via the AP-7 freeway, a quick 45-minute drive. The same freeway also connects to Gibraltar Airport, just 51 kilometers away, making the area easily accessible for both local and international visitors.
See where Nueva Andalucia is located on the map.
Location: Nueva Andalucia, 5 km west of Marbella's city center, Costa del Sol, Spain
Surroundings: Majestic Sierra Blanca mountains and sparkling Mediterranean Sea
Climate: Over 300 days of sun annually for an idyllic coastal lifestyle
Amenities: World-class golf courses, upscale restaurant and pristine schools.
Attractions: Vibrant nightlife, family friendly activities and trendy boutiques.
Connectivity: Easy access to Malaga Airport 47km away (45 minutes) and Gibraltar Airport 51km away (1 hour).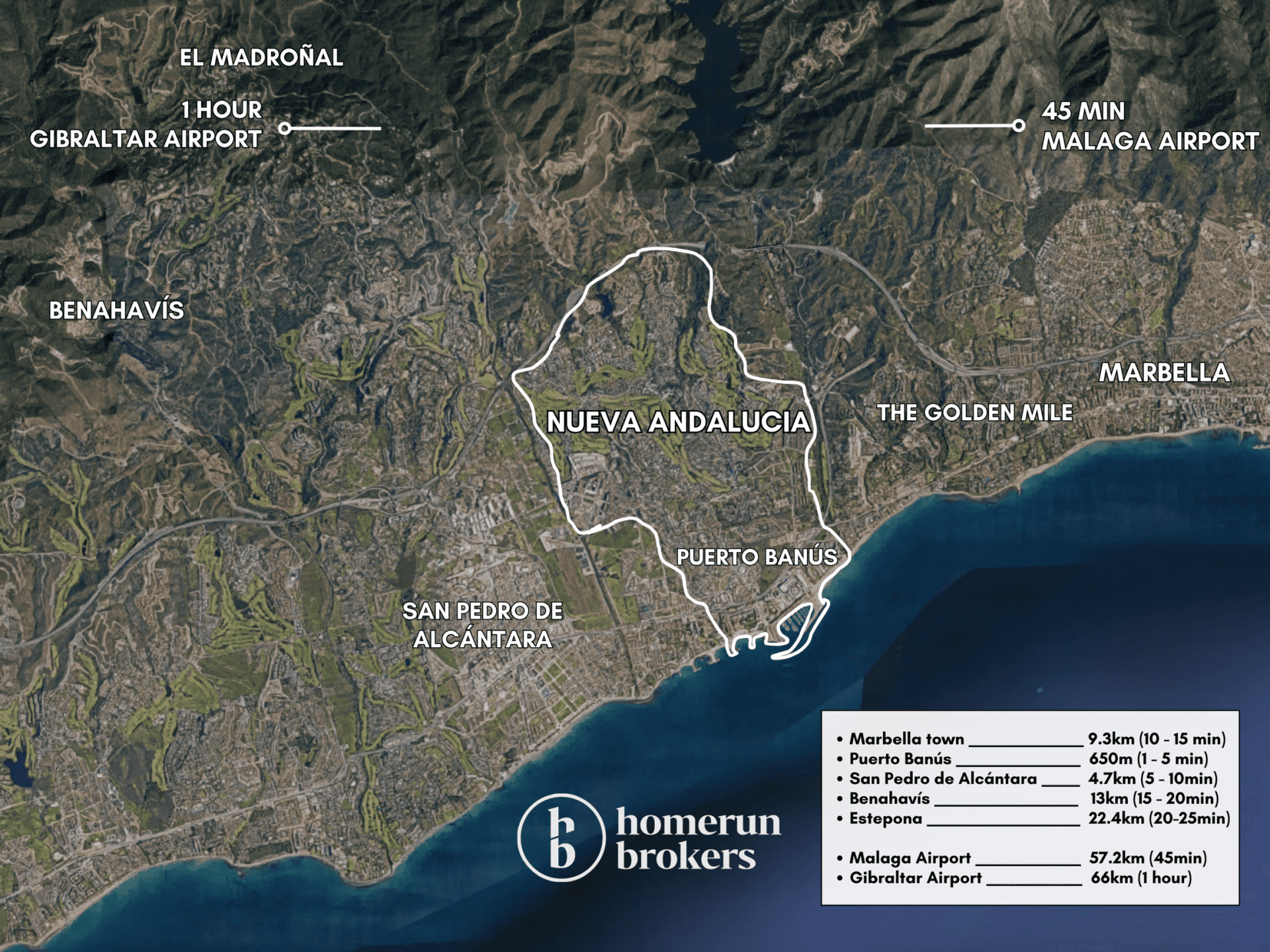 What is the history of Nueva Andalucia?
Nueva Andalucia's development is credited to José Banús, a visionary developer from Madrid, Spain. He transformed this area into the residential haven known today as Nueva Andalucia. Additionally, he is celebrated for creating the iconic marina, Puerto Banús, which has become a symbol of luxury on the Costa del Sol.
The design of Puerto Banús has roots in Beverly Hills, thanks to architect Noldi Schreck. In 1966, Schreck joined the project. He suggested to José Banús that Puerto Banús should look like a classy Andalusian village and marina, not tall skyscrapers. This idea positioned José Banús as a key developer in the Costa del Sol. The 1970 Puerto Banús opening was grand. It had guests like the Aga Khan, Roman Polanski, Hugh Hefner, and Prince Rainier and Princess Grace of Monaco.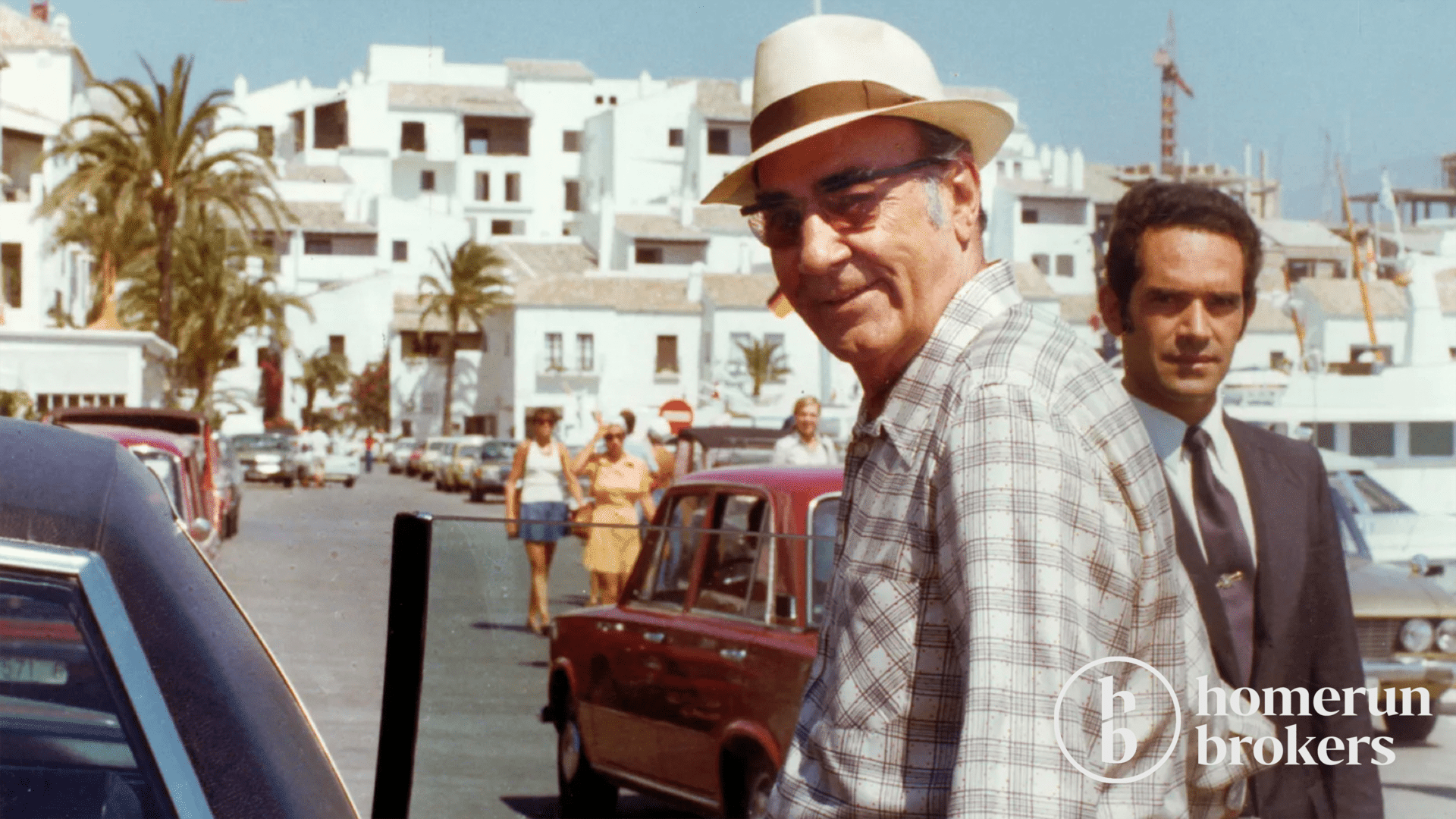 How many sectors are in Nueva Andalucia?
Nueva Andalucia is divided into two distinct areas, each providing a different lifestyle experience:
The Western part of Nueva Andalucia is a haven of peace surrounded by natural beauty. It's filled with green landscapes and scenic homes, making it a perfect place for a calm life. Popular residential areas here include Urbanización Aldea Blanca, La Campana, and La Torre de Andalucia. They feature charming villas and townhouses that blend with nature. La Cerquilla, another notable area, is also in this sector. A highlight here is the La Quinta golf course, known for its luxury homes and outstanding golf amidst beautiful surroundings.
The Eastern part of Nueva Andalucia, in contrast, is all about luxury. It's home to famous golf courses like Las Brisas, Los Naranjos, and Aloha Golf Club. The area boasts luxurious villas and upscale apartments. Close by is the Golden Mile, known for its lavish homes, top-tier restaurants, and beautiful beaches.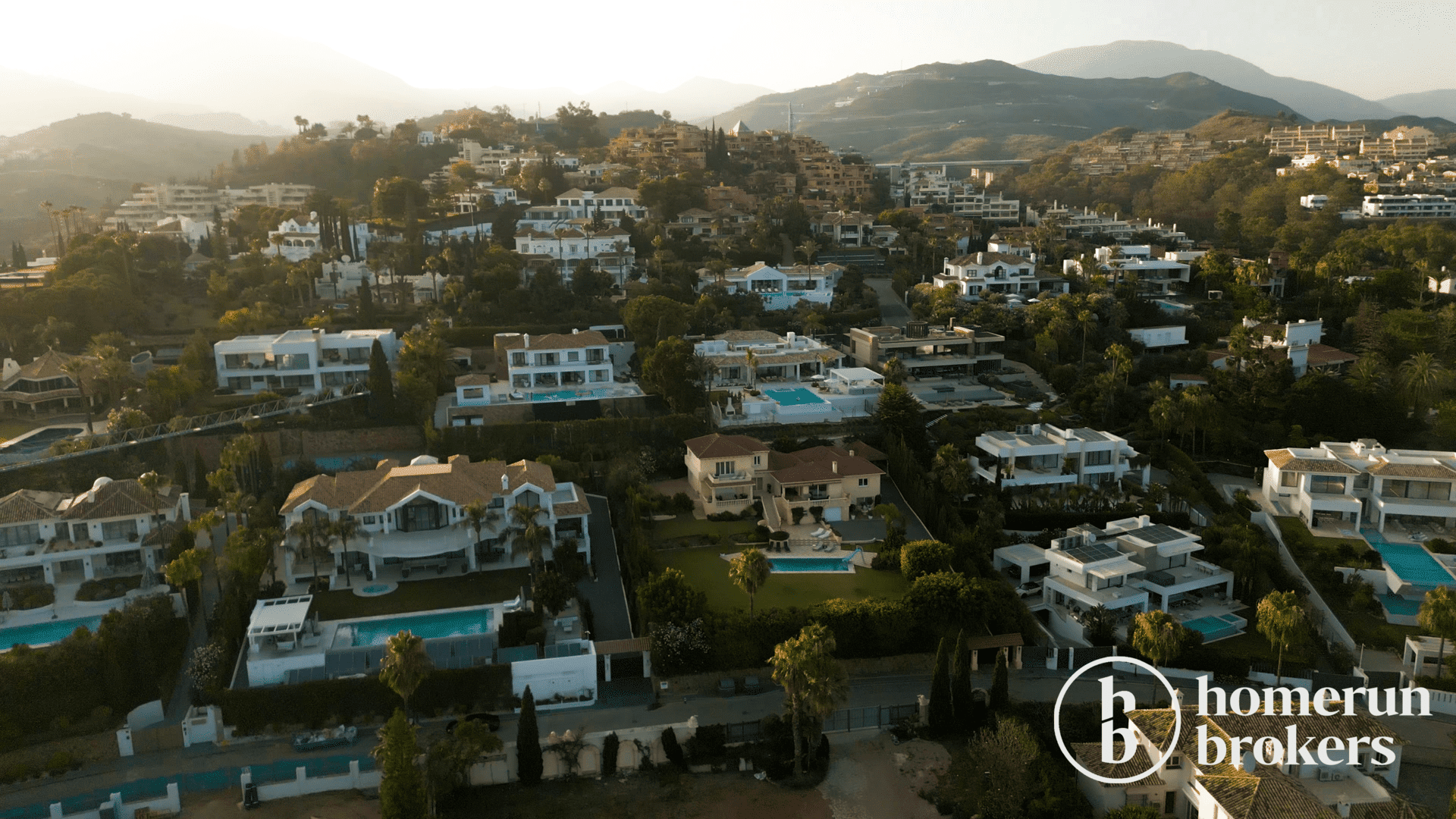 What styles of homes are there in Nueva Andalucia?
Nueva Andalucia boasts over 5,000 properties, each offering unique home styles to fit your preferences. Looking for a luxury villa by the golf course? Nueva Andalucia has it. Prefer a home in a gated community or a stylish apartment with views? You'll find those too.
The architectural variety is vast. You'll find modern villas with sleek designs. There are also traditional Andalusian homes, known for their white walls and cozy courtyards, giving a Mediterranean vibe. Whether it's a sea-view apartment, a townhouse in a secure area, or a classic home, Nueva Andalucia has a plethora of choices for your ideal living space.
Popular urbanisations in Nueva Andalucia
Several well-known local urbanizations grace the landscape of Nueva Andalucia, each offering unique charm and appeal. Among these popular residential areas are Las Lomas de Nueva Andalucia, Albatross Hill, Vista Real, Señoria de Gonzaga, Lago de las Tortugas, Alminar de Marbella, Sierra Park Club, Los Arrayanes, Aloha Golf Apartments, Aloha Hill Club, and Peña Blanca.
For those seeking the finest townhouses in Nueva Andalucia, urbanizations such as Haza del Conde, La Alzambra, Les Belvederes, La Cerquilla, Los Naranjos, and the Marbella Country Club showcase exquisite properties, each with its own distinct character and amenities.
See our selection of properties in Nueva Andalucia.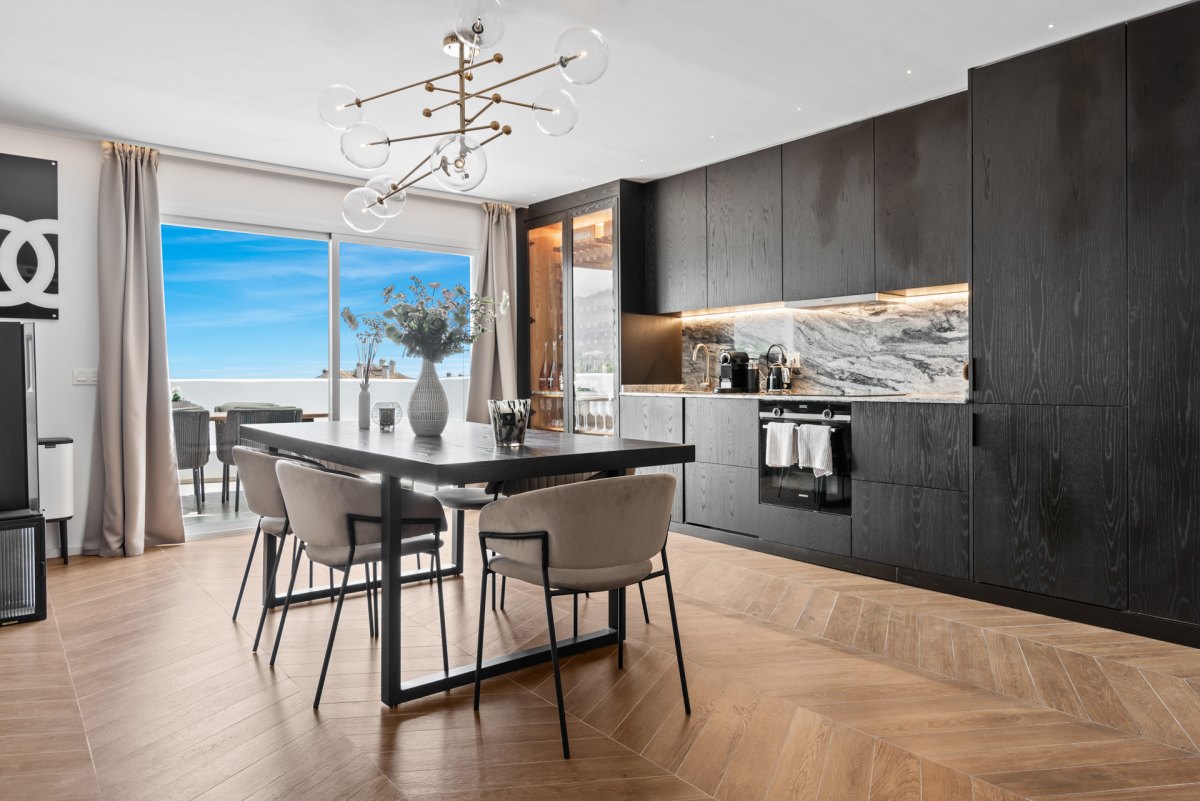 Are there good investment opportunities in Nueva Andalucia?
Yes, there are many attractive investment opportunities in Nueva Andalucia. Many have bought older homes, renovated them, and then chosen to either live in them or sell at a profit. With this ongoing interest, Nueva Andalucia has become a vibrant area, full of promising business potential.
How much do properties cost in Nueva Andalucia?
In July 2023, the property market in Nueva Andalucia showed significant changes:
Residential Properties for Sale:
Average asking price in July 2023: €4,827 per square meter.
This is an 11.89% increase from July 2022, where the price was €4,314 per square meter.
Over the past two years:
Peak price: July 2023 at €4,827 per square meter.
Lowest price: September 2021 at €3,923 per square meter.
Residential Rental Properties:
Average monthly asking price in July 2023: €17.94 per square meter.
This reflects a 22.96% rise from July 2022, which stood at €14.59 per square meter.
Over the past two years:
Highest monthly price: July 2023.
Lowest monthly price: September 2021 at €12.62 per square meter.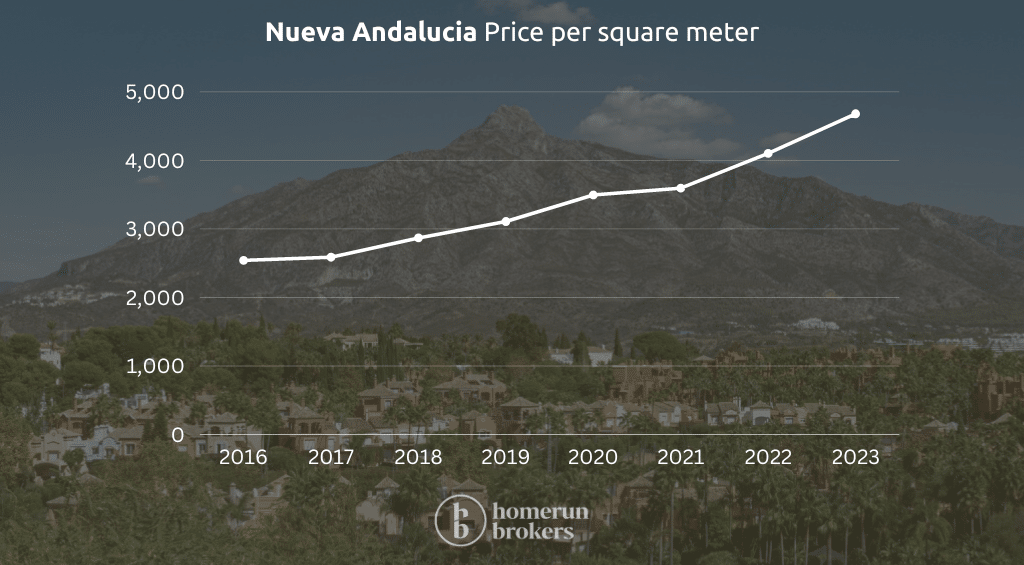 How much does a plot i Nueva Andalucia cost?
In Nueva Andalucia, despite its dense population and many appealing properties, there are still opportunities to purchase land. Here's a breakdown:
Available Plots in Nueva Andalucia:
General price range for land: €400,000 to €3,000,000.
Price per square meter is typically between €800 to €1,600.
Prices can vary based on the specific plot and its location within Nueva Andalucia.
What is the rental market like in Nueva Andalucia?
Nueva Andalucia has a vibrant rental market and it is a prime place to invest if you would like to make money of rentals. There is a high demand for both holiday and year-round accommodations, but the high season is June to August. Property rental rates differ based on proximity to key areas like Puerto Banús and available views—those with sea or golf course vistas tend to fetch higher prices. The time of year is also a big factor in the pricing as the rates go up extensively during the high season.
Despite the fluctuating Spanish economy, particularly the downturn in 2008, Marbella's rental market rebounded in the 2010s, with a noticeable uptrend in luxury offerings. Property owners eyeing the holiday rental segment should be aware of the Andalusian Decree, mandating specific standards and licensing. The Andalucian Rental Decree states that all rentals must be registered with property details, guest identification for security, and rental terms. Landlords must explain property features and provide access information. If the property is part of a community of owners, internal bylaws must be shared with guests for compliance.
Who lives in Nueva Andalucia?
According to 2022 data, one-third of Marbella's population is of foreign descent. A closer look reveals:
Nueva Andalucia's International Population:
It has the highest number of foreign residents in Marbella, both in total numbers and as a percentage of the population.
82% of its officially registered residents are foreigners.
The area is home to a diverse mix of nationalities from around the world.
The British and Scandinavian communities are particularly prominent in Nueva Andalucia.
What makes Nueva Andalucia unique?
Nueva Andalucia stands out as a premier destination, distinguished by several unique attributes. Its esteemed reputation as the "Golf Valley" underscores its top-tier golf facilities. Esteemed courses such as Las Brisas, Aloha, and Los Naranjos draw golf enthusiasts globally. These courses, known for hosting international tournaments, boast pristine fairways, captivating landscapes, and mesmerizing Mediterranean vistas, ensuring an unmatched golfing experience.
Besides its great golfing, Nueva Andalucia has many top-quality features. There are diverse restaurants like Occo with Lebanese food, Breathe for fine dining, and Paisana for Andalusian dishes. At night, trendy bars like NU Downtown become lively spots for fun and socializing. For those who love shopping, the area has designer boutiques with high-end fashion and special items.
Wellness is a priority here, with luxury spas ensuring relaxation and rejuvenation, complemented by fitness centers for those keen on an active lifestyle. Families considering Nueva Andalucia as their home will appreciate the presence of Aloha School, a reputable educational institution enhancing the community's allure.
Further details on amenities and educational opportunities will be discussed later in the article.
What can you do in Nueva Andalucia?
Golf in Nueva Andalucia
The Golf Valley of Marbella proudly showcases some of the most prestigious golf courses in the region. Among its notable golfing destinations are the Los Naranjos Golf Club, Las Brisas Golf Club, the Magna Marbella Golf Club, and the Aloha Golf Club.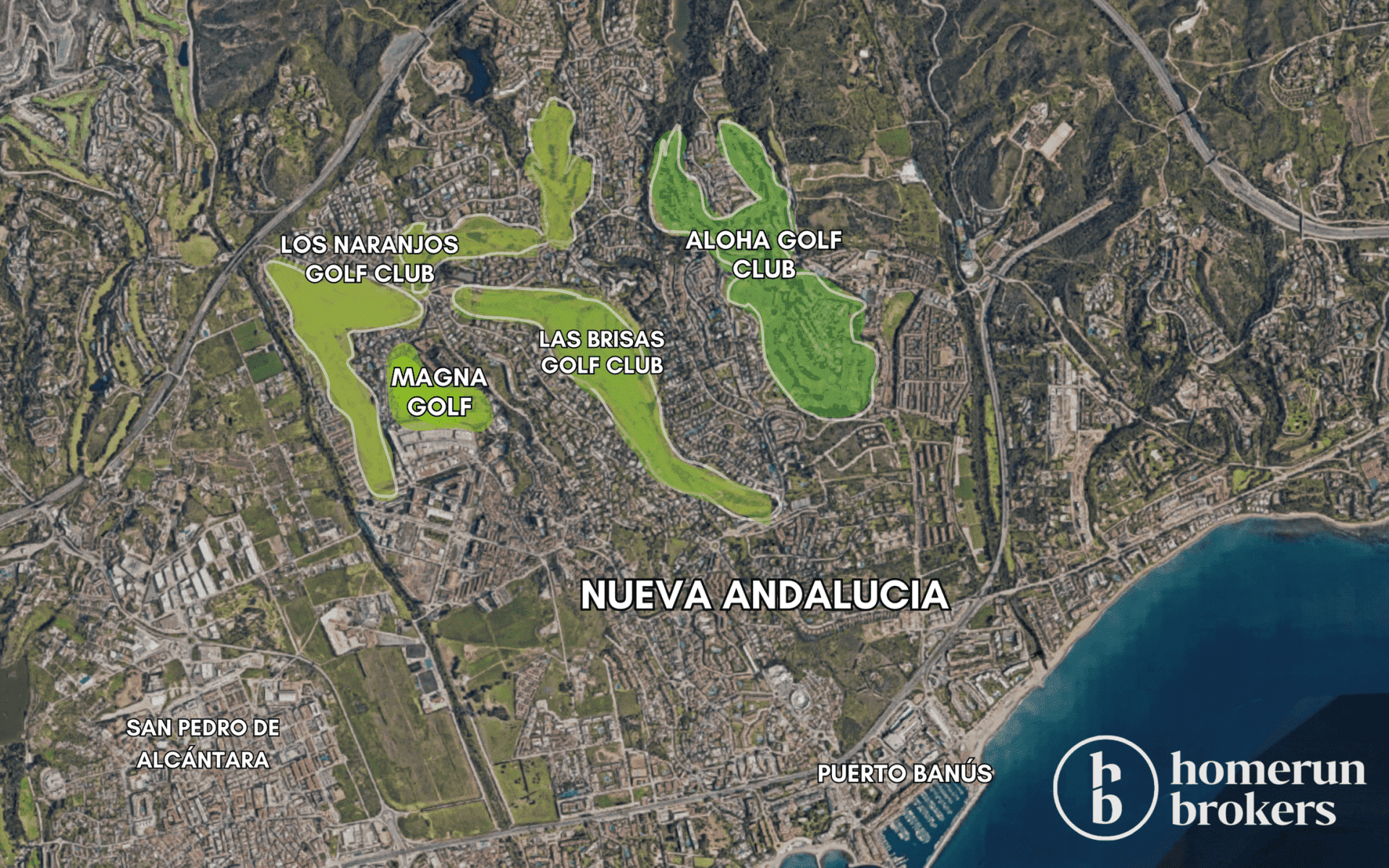 Los Naranjos Golf Club
The Los Naranjos Golf Club, skillfully designed by Rober Trent Jones Sr. and inaugurated in 1977, has hosted esteemed competitions like the Spanish Open and earned recognition as one of Spain's finest courses. Its excellence was acknowledged when it received the accolade of the best course of the year in both 2005 and 2008. To access this impressive course, players can become members of the golf club or opt for the Green Fee Rate, available in Low Season, High Season, and Mid-Season categories.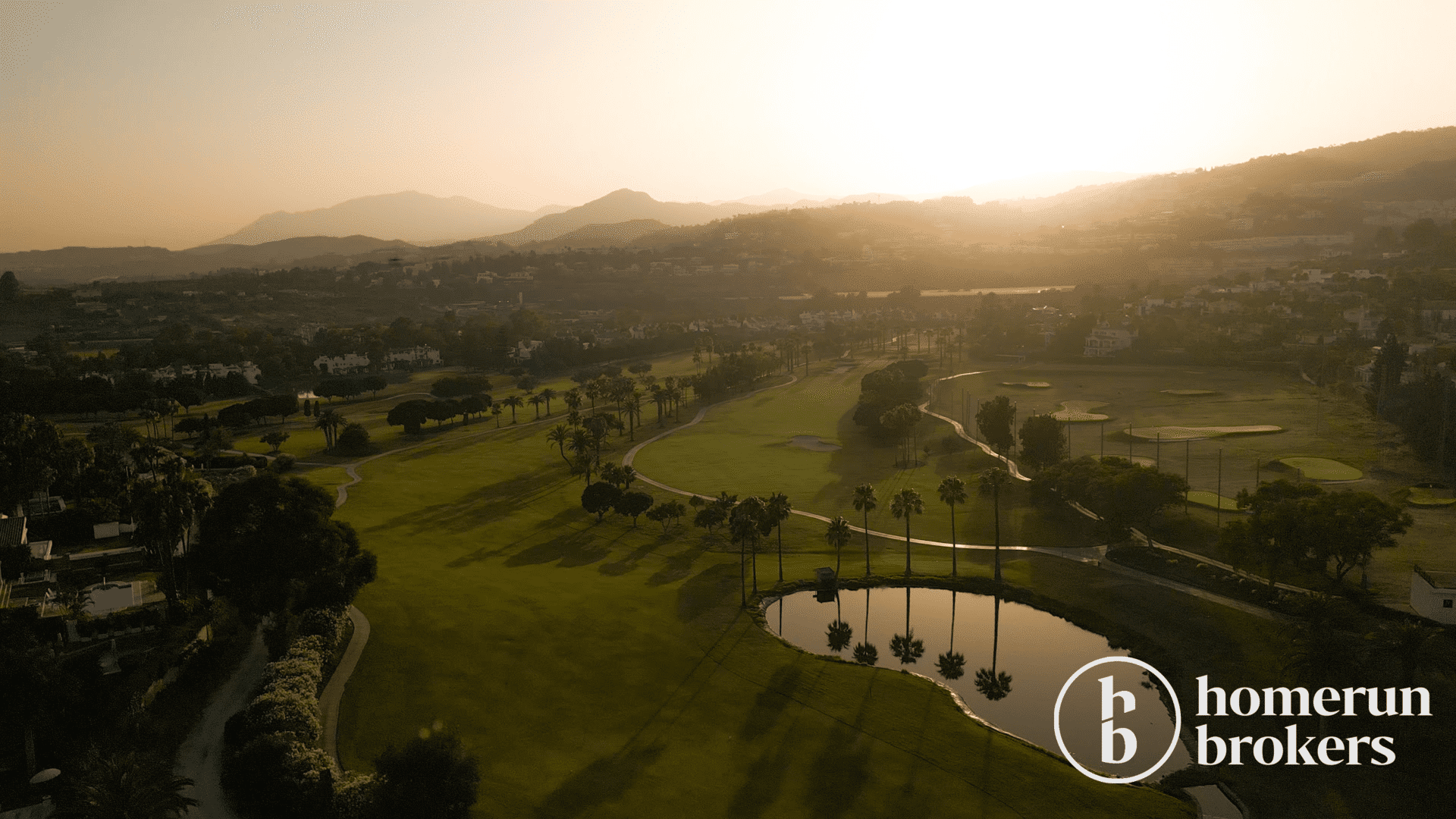 Las Brisas Golf Club
As for the Las Brisas Golf Course, it holds a prominent position in Spain's Top 100 courses, ranked at #6, and occupies the #24 spot in Continental Europe. This course, designed by Robert Trent Jones Sr. in 1968 and later reconstructed by Kyle Phillips in 2015, has seen its fair share of golf tournaments, including the International Spanish Open. To play on this esteemed course, individuals must gain membership approval from the Las Brisas Golf Club, a process that can be found on their website.
Magna Marbella Golf Club
The Magna Marbella golf course, a scenic 9-hole long course masterfully crafted by José María Elguezábal, also offers a welcoming Driving Range. Unlike some other courses, membership is not mandatory to enjoy this course or the driving range, as players can simply purchase a Green Fee for either 9-holes or 18-holes to partake in the golfing experience. The Magna Marbella facilities are equally impressive, featuring amenities such as the Magna Café restaurant, sauna, gym, and more.
Aloha Golf Club
Finally, the Aloha Golf Club boasts a Par 72 6,882-yard course that treats golfers to breathtaking views of both the sea and mountains. Designed by the renowned Javier Arana in 1975, the course is accessible exclusively to members of the Aloha Golf Club. To become a member, aspiring players must acquire a share in the Aloha Golf S.A. company, which is available only from existing shareholders willing to sell. Those interested in experiencing the allure of the Aloha Golf Club can apply for playing and other membership privileges.
Puerto Banus
High-end stores
Wide selection of restaurants
El Corte Inglés department store
Cinema
Bars and clubs
Summer market
Located in the southern part of Nueva Andalucia, Puerto Banús is a top spot for luxury shopping. It's home to famous brands like Tom Ford, Louis Vuitton, and Hermes, making shopping there a treat.
There's also a wide range of restaurants serving dishes from Italian to Argentinian, so there's something for every taste.
Nearby, the El Corte Inglés shopping center offers a mix of high-end clothes, jewelry, tech, furniture, and food. If you're looking for more mainstream fashion, check out the Marina Banús shopping center.
Movie fans can catch the latest films at the Red Bulldog cinema, available in various languages including Spanish.
In the evening, Puerto Banús lights up with nightlife, offering a mix of restaurants, bars, and clubs. It's a great place to spend your nights.
And in the summer, Plaza Antonio Banderas in Puerto Banús hosts a market with clothes, food, kids' toys, and more. It's a lively spot that promises a fun experience for everyone.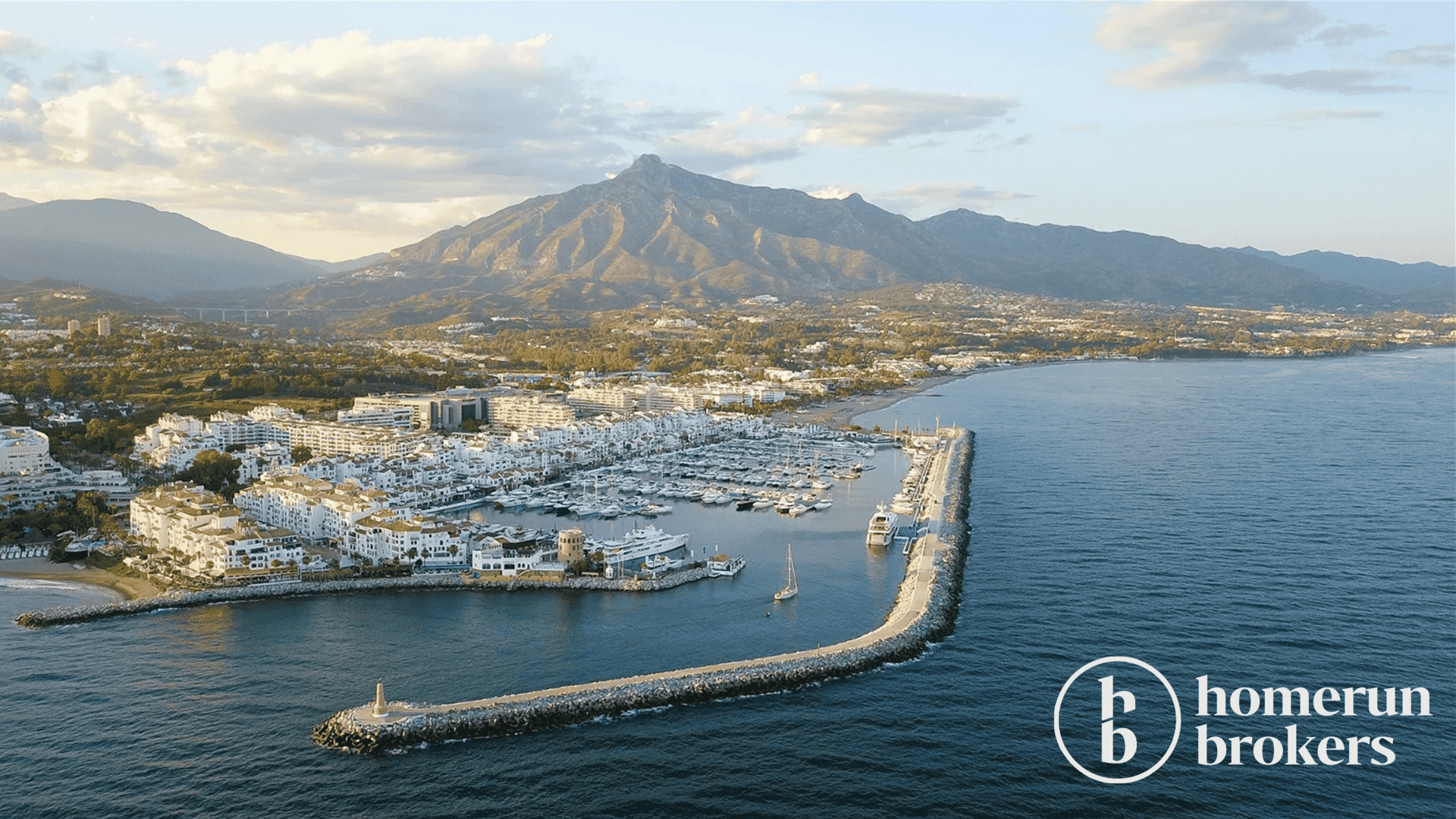 Sports clubs in Nueva Andalucia
In 1997, the renowned tennis professional, Manolo Santana, founded the Manolo Santana Racquets Club in Nueva Andalucia. Since then, it's become a leading destination for sports enthusiasts. The club not only offers tennis lessons and matches but also hosts a variety of sports activities. For those keen on fitness, there's a state-of-the-art gym. And after a rigorous session, members can relax and dine at the club's in-house restaurant.
Meanwhile, the Real Club de Padel Marbella, established in 2009, stands out as one of Spain's most exclusive padel venues. It has nine advanced padel/tennis courts, including three that are covered, all fitted with WPT-standard glass and LED lights. Their fitness facilities are equally impressive, featuring modern equipment, diverse training spaces, a CrossFit area, and even a ninja warrior course. For relaxation, members can visit the beauty center, hair salon, barbershop, or the tanning beds. And when it's time to refuel, there's a restaurant and a protein shake bar on-site.
What sets the Real Club de Padel Marbella apart is its emphasis on personalized service. They offer dedicated personal trainers and padel coaches to cater to individual needs. Plus, they provide flexible membership options, from daily passes to longer-term plans, ensuring everyone can access their top-tier amenities.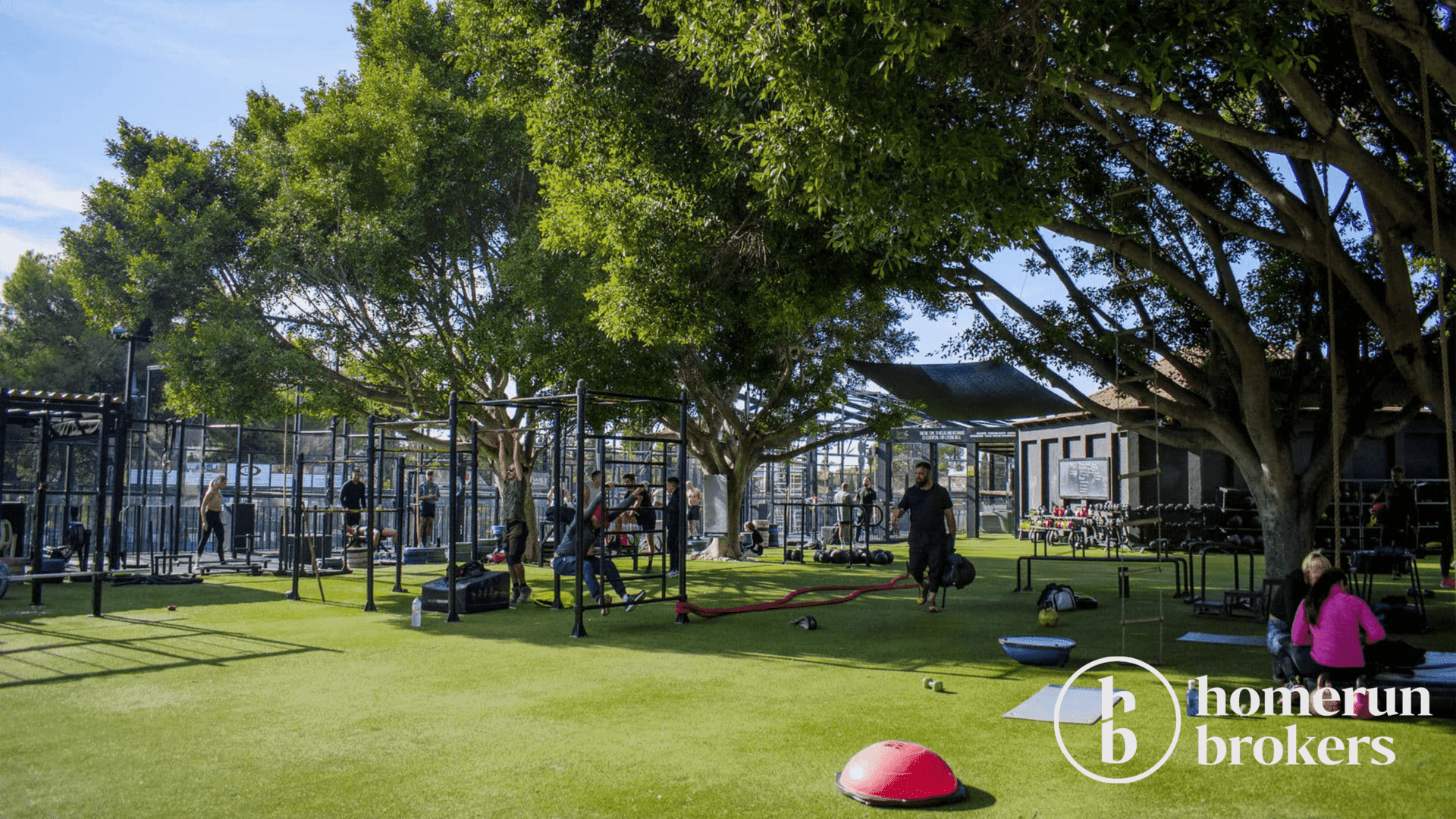 Saturday Street Market
Every Saturday, from 08:00 to 15:00, a lively street market comes to life on Avenida Pilar Calvo, situated near the bullring and Centro Plaza. This market has a wide variety of items, including clothing, accessories, antiques, and leather goods. Given the limited parking availability, visitors should use public transport or consider walking. For those who prefer driving, Puerto Banus offers public parking options to ensure a hassle-free shopping experience.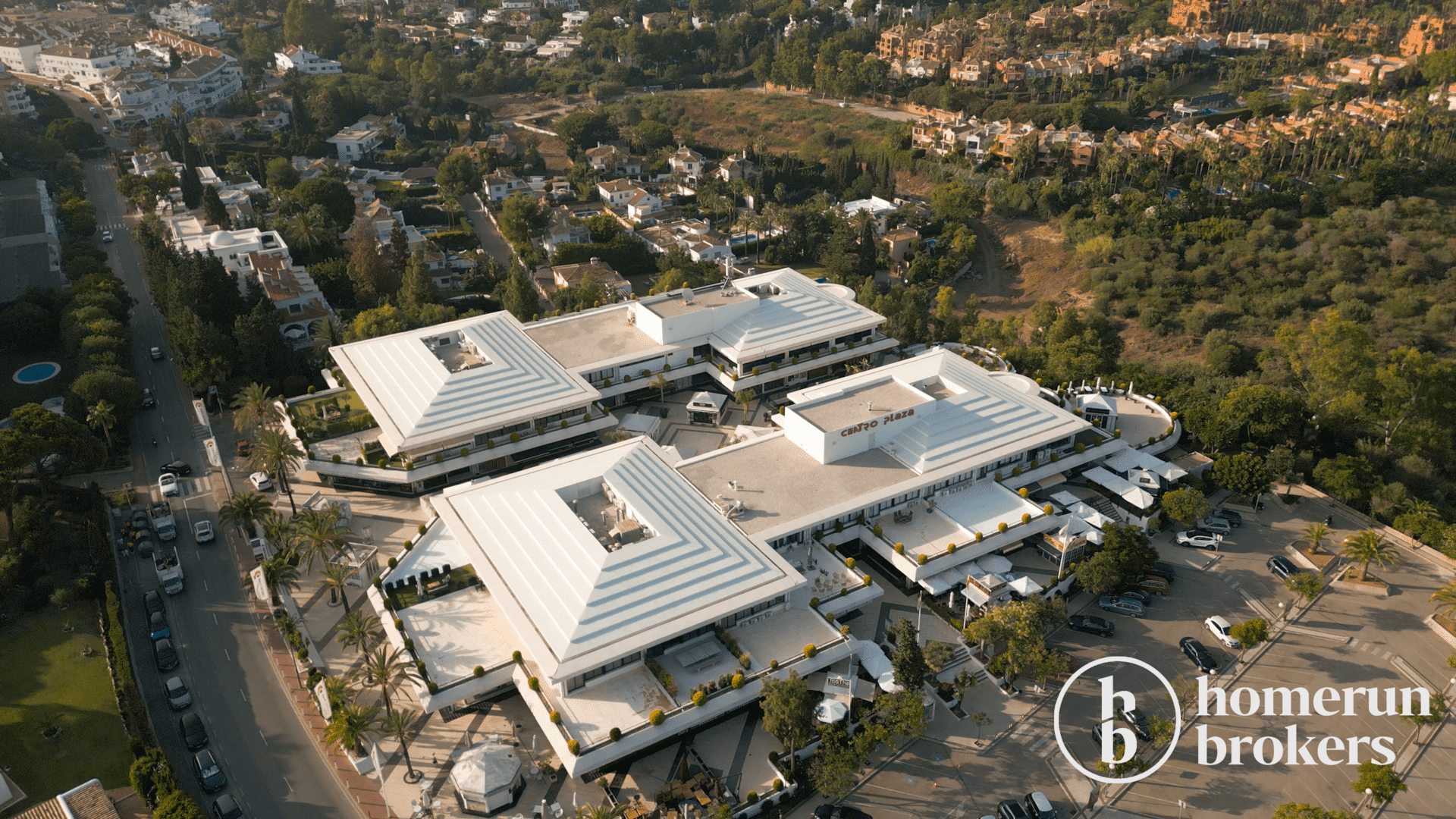 The Marbella Arena, formerly used as the Nueva Andalucia bull-ring, has been transformed into a hub of restaurants, bars, and shops. Its initial construction took place in 1965. Following extensive renovations in 2019, the arena has been used for concerts and events. Prior to its re-opening the arena was mostly unused for ten years, with the last major event being the quarter-final match of the Davis Cup Tennis Tournament in 2009.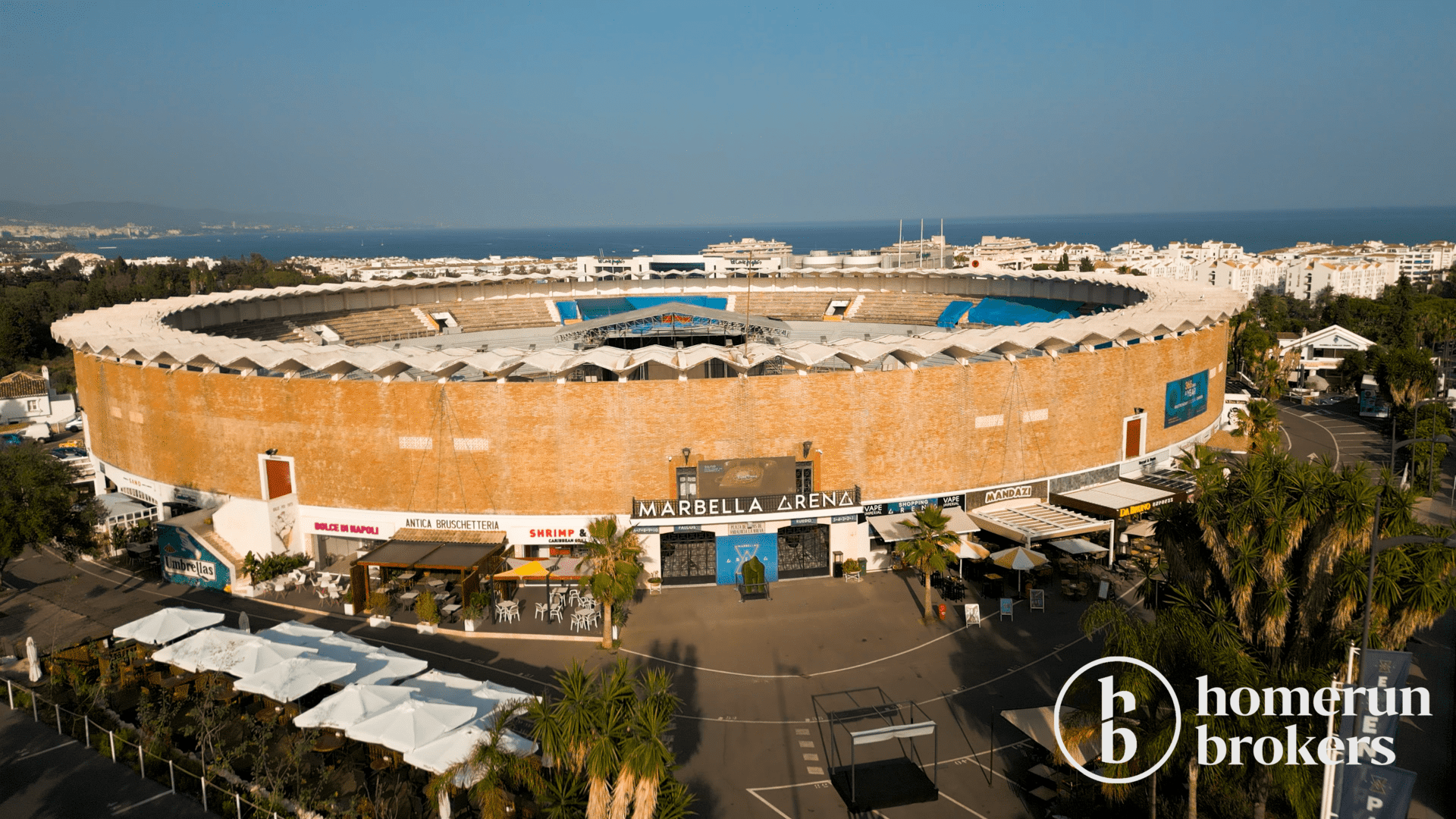 The Turtle Lake
Lago de Las Tortugas, commonly known as Turtle Lake, is a picturesque park characterized by expansive green landscapes and a big lake. This tranquil setting has become a preferred spot for families and friends to convene, enjoying picnics and relaxed gatherings.
While the lake does attract some fishing enthusiasts, it's important to note that fishing opportunities are somewhat limited due to a reduced variety of fish species in the lake. The name "Turtle Lake" is a nod to its history, as turtles once populated the area. However, they are no longer present. Instead, the park is now home to ducks and a diverse range of wildlife. An added attraction for visitors is the stunning view of La Concha, offering a visual treat in this serene environment.
Restaurants and nightlife in Nueva Andalucia
Nueva Andalucia is home to an array of top-notch restaurants that offer culinary delights from around the world. Whether you're craving Mediterranean cuisine, international fusion, or traditional Spanish dishes, Nueva Andalucia's restaurants are sure to leave you satisfied and coming back for more. Here is a selection carefully curated by Homerun Brokers:
Occo Dinner Club: A hidden gem in Nueva Andalucia, Occo entices diners with its delectable Lebanese fusion cuisine. This enchanting restaurant offers a journey through traditional flavors and exotic spices, creating a dining experience with live entertainment that is both unique and memorable.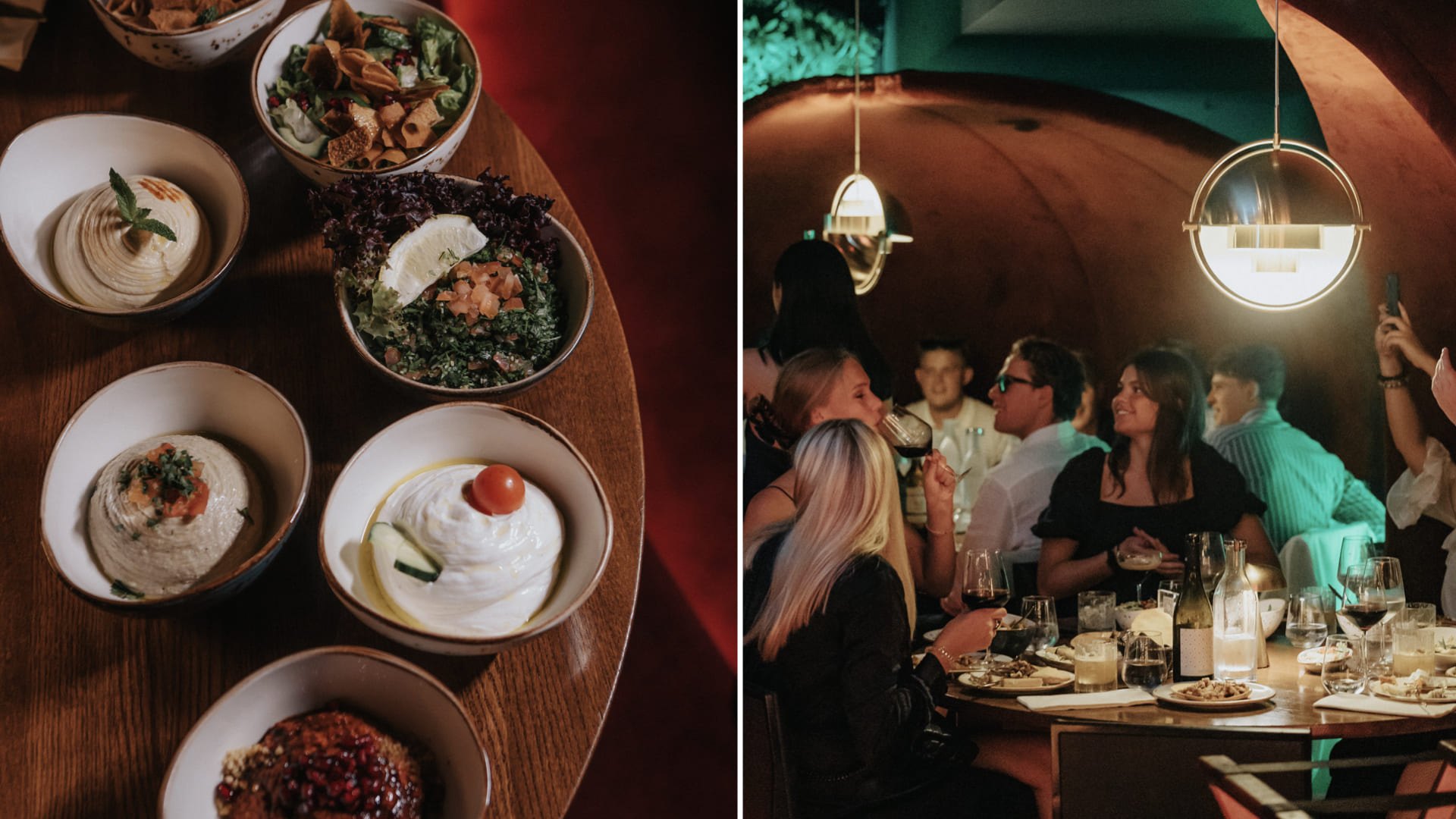 Breathe Restaurant: Situated in the heart of Nueva Andalucia, Breathe epitomizes the fusion of art, culinary expertise, and innovation. Prioritizing sustainability and organic sourcing, the restaurant presents dishes that are both imaginative and delectable.
Vovem Restaurant: A haven for meat connoisseurs, Vovem stands out in Nueva Andalucia. This upscale steakhouse is renowned for its premium cuts, expertly prepared and presented in a sophisticated ambiance.
Nomad Restaurant: Nomad offers a captivating blend of global flavors, encapsulating the spirit of international cuisine. Its diverse and inventive menu invites patrons on a gastronomic journey, celebrating culinary artistry.
Magna Cafe: Distinguished by its elegant atmosphere and Mediterranean delicacies, Magna Cafe is ideal for both relaxed lunches and refined dinners. Its expansive terrace allows guests to dine while appreciating the scenic vistas of Nueva Andalucia.
COA Restaurant: Infused with Asian flair, COA delights diners with exquisite sushi, sashimi, and a range of Asian fusion dishes. The restaurant's modern design complements the overall culinary experience.
NU Downtown: NU Downtown, with its contemporary charm, offers a blend of Mediterranean and global dishes. Whether it's a brunch or tapas, the restaurant ensures a memorable dining encounter.
Nao Pool Club: Nao Pool Club offers a serene setting for guests to lounge by the pool, complemented by refreshing beverages and sunshine. Its tranquil environment is perfect for relaxation.
Dreamers Nightclub: Dreamers Nightclub is a good destination for those seeking a dynamic evening. With pulsating music, live DJ sets, and a stylish setting, it offers an exhilarating nightlife experience.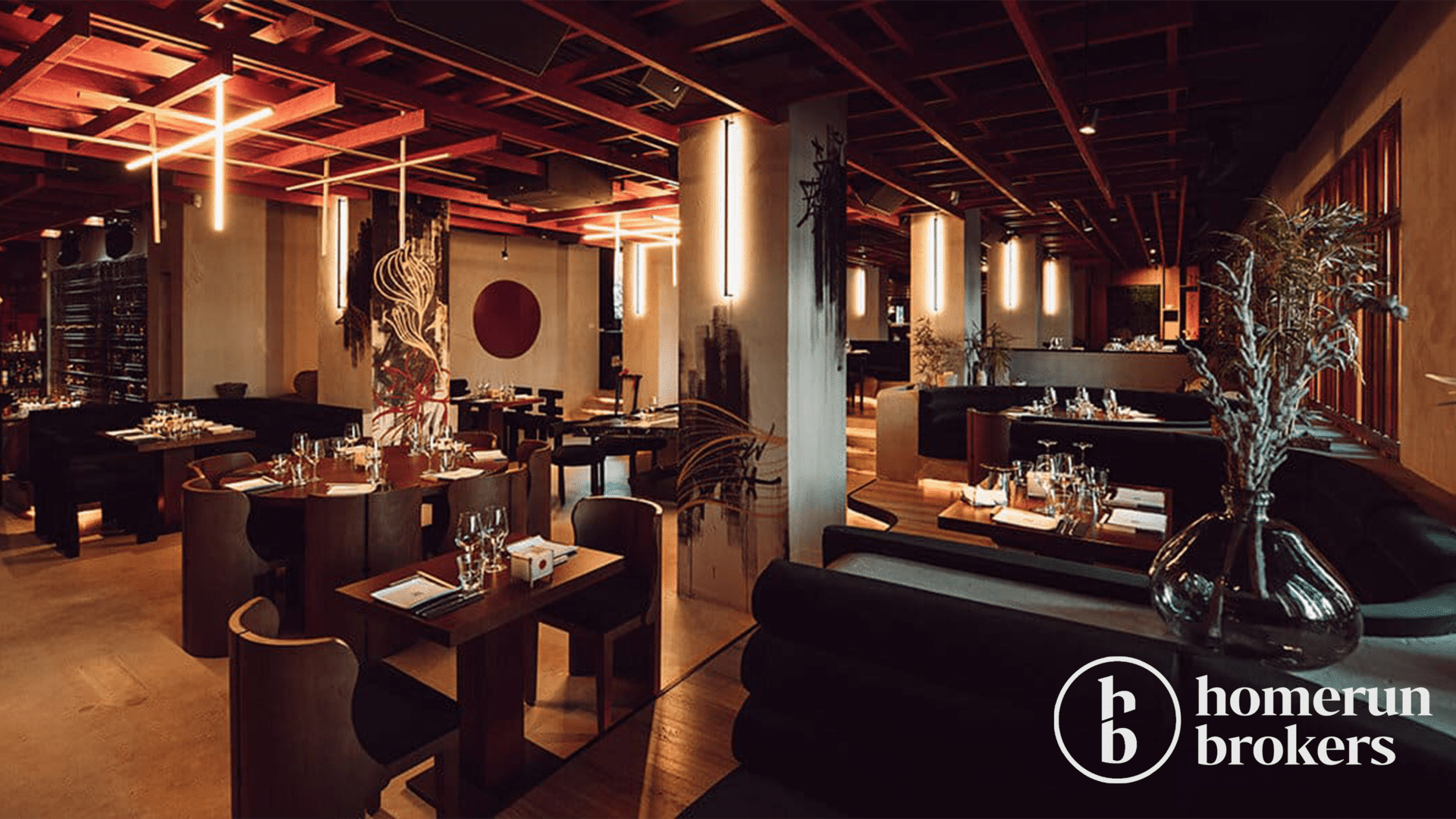 What supermarkets are available in Nueva Andalucia?
Scandi Supermarket
Spisa Supermarket
Green Village
La Freshquita
Mercadona
Several mini markets
In Nueva Andalucia, residents and visitors benefit from a diverse range of supermarkets. Notably, for Scandinavians, there's the Scandi Supermarket in La Campana and the Spisa Supermarket in Centro Plaza.
For organic enthusiasts, mini markets like Green Village and La Freshquita offer an array of ecological products.
Beyond these niche stores, the Mercadona supermarket offers a wide selection of groceries and household essentials. Additionally, scattered throughout Nueva Andalucia are Supercor mini markets, ensuring that daily necessities are always within reach.
In essence, whether you're seeking Nordic specialties, organic goods, or everyday items, Nueva Andalucia's supermarkets cater to all, making the shopping experience both convenient and enjoyable
Which schools are available in Nueva Andalucia?
Many families choose to settle in Nueva Andalucia because of its family friendly environment and amenities. The area boasts esteemed educational institutions that guarantee top-tier schooling options.
Aloha College
Children aged 3-18
International
Cultural diversity
International Baccalaureate Diploma Programme
Located in Nueva Andalucia, Marbella, Aloha College stands out for its international ethos and diverse student body. As a respected international institution, it draws students from over 60 distinct nationalities. This multicultural blend creates a rich and inclusive educational setting, enabling students to gain a broad worldview and respect for different cultures.
Aloha College begins its educational journey with the Early Years Foundation Stage for children aged 3 to 5. Students then transition to the Primary Years Programme (ages 5 to 11) followed by the Secondary Years Programme (ages 11 to 16). For the final stage, students aged 16 to 18 can enroll in the International Baccalaureate Diploma Programme. Through this educational pathway, Aloha College ensures holistic growth, focusing on academic, personal, and social aspects, setting students on a path to a promising future.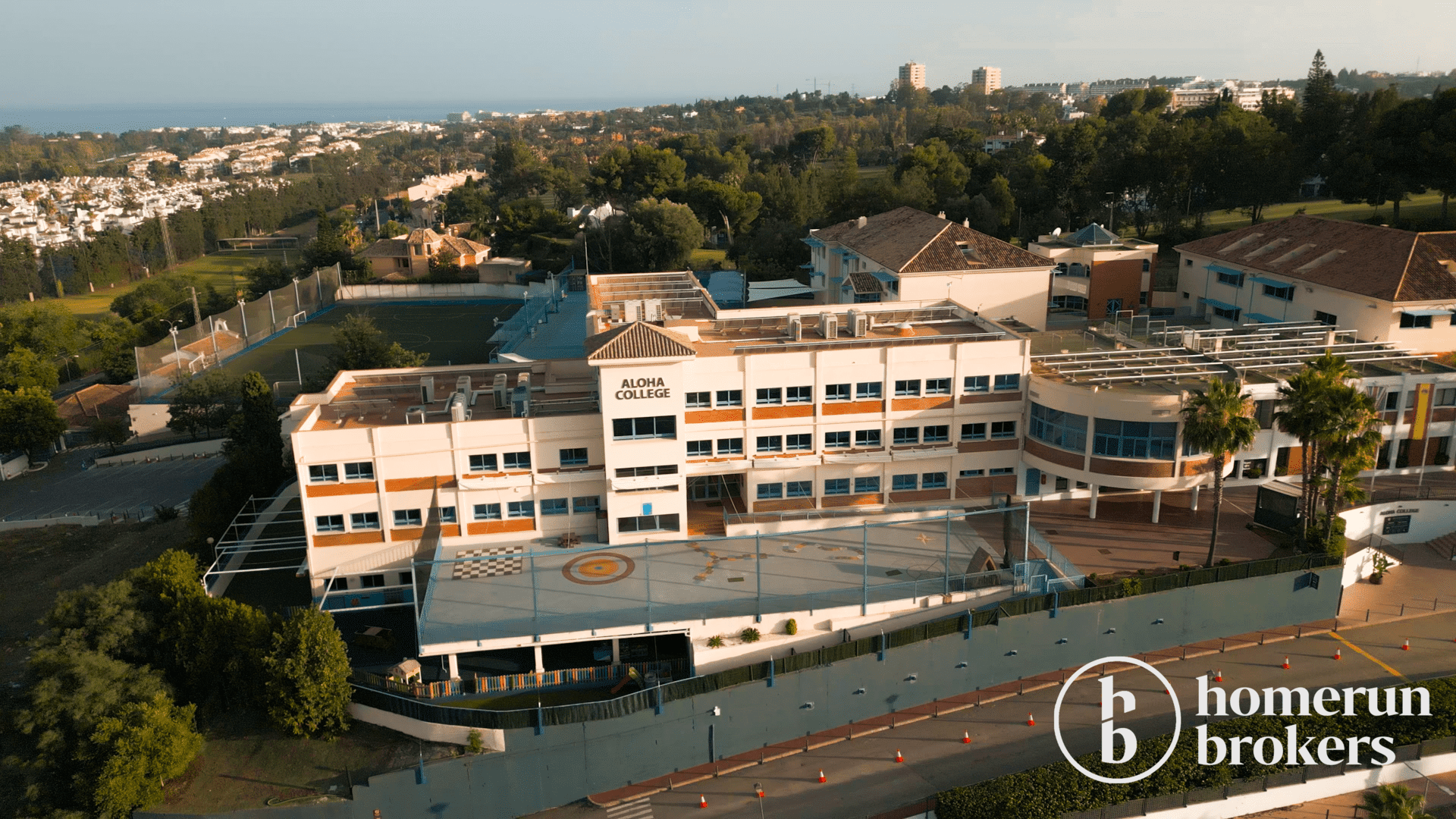 Svenska Skolan
Children aged 3-12
Swedish curriculum
Svenska Skolan, located in Nueva Andalucia, Marbella, stands as a distinguished Swedish school. Set in the midst of a lively neighborhood, it's committed to delivering top-tier education. With a commitment to providing high-quality education, the school offers a nurturing and stimulating learning environment for students of Swedish descent or those interested in embracing the Swedish language and culture.
Svenska Skolan prides itself on maintaining Swedish educational standards while also incorporating a global perspective, preparing students to excel in an increasingly interconnected world. The education follows the official Swedish curriculum, so your child can continue their Swedish education seamlessly.
Which are the best medical centers in Nueva Andalucia?
There are many healthcare facilities available, ensuring that residents have access to top-tier medical services within their reach. Whether it's for routine check-ups or specialised treatments, the peace of mind that comes with excellent healthcare is an invaluable asset.
Helicoperos Sanitarios offer 24hr service with the latest technology and highly qualified medicals. For Swedes, Stella Kliniken is a medical centre that offer daytime care and remissions through appointments. Swedes registered in Sweden have the advantage of Försäkringskassan (the Swedish Social Insurance Agency) covering costs beyond the Swedish rate.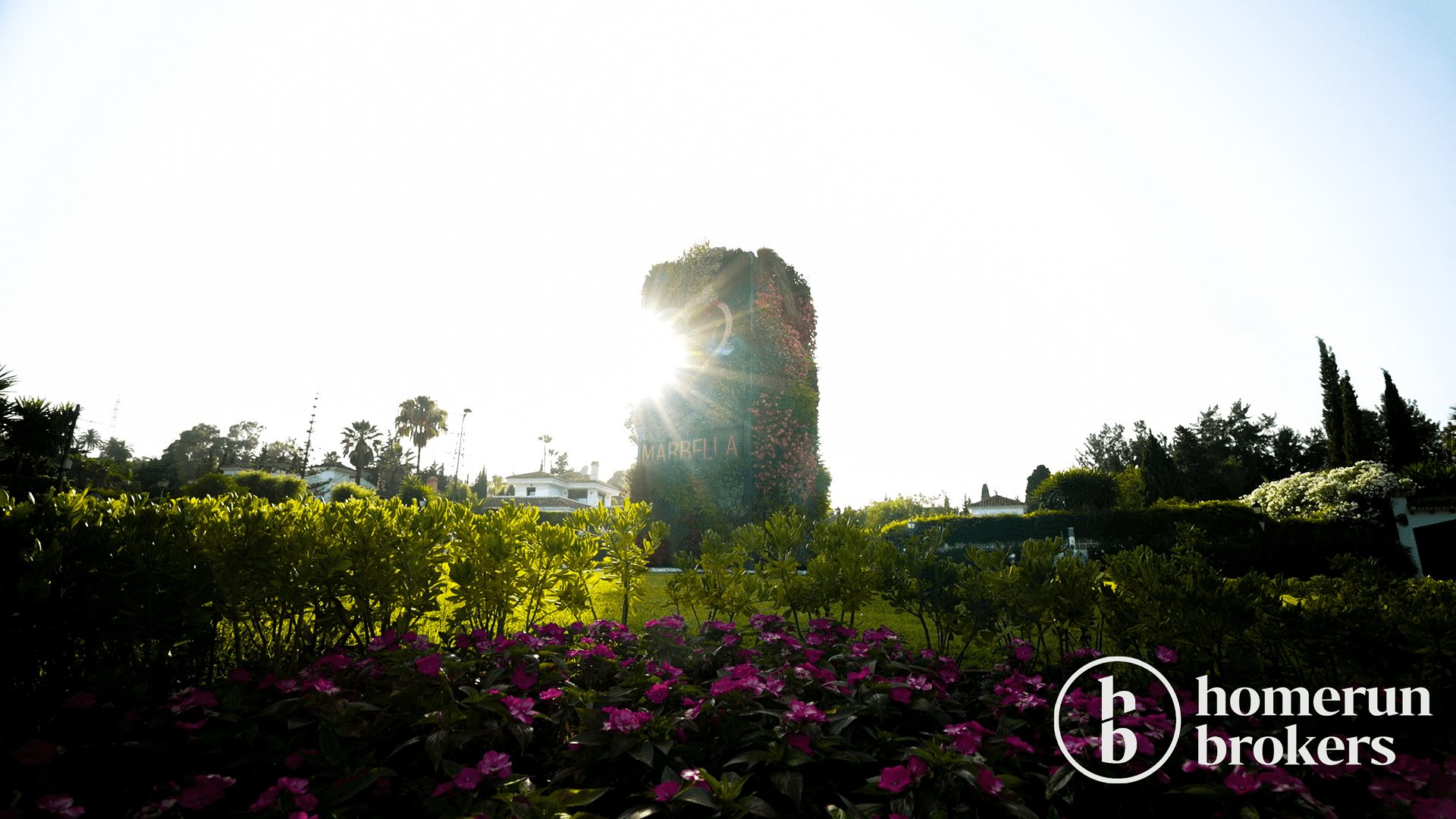 Whether indulging in a round of golf, savoring gourmet cuisine, exploring high-end boutiques, or enjoying the natural surroundings, Nueva Andalucia offers a unique and captivating lifestyle that truly sets it apart as a premier destination on the Costa del Sol. Its unique blend of luxury, culture, and natural beauty makes it a place like no other, attracting those seeking a truly exceptional living experience. Let us help you find the perfect property for you in this piece of paradise.
Exclusive properties in Nueva Andalucia