Balcon del Golf - Stylish Scandinavian 3-bed penthouse with rooftop terrace in Nueva Andalucia - image 0
Balcon del Golf - Stylish Scandinavian 3-bed penthouse with rooftop terrace in Nueva Andalucia - image 1
Balcon del Golf - Stylish Scandinavian 3-bed penthouse with rooftop terrace in Nueva Andalucia - image 2
Balcon del Golf - Stylish Scandinavian 3-bed penthouse with rooftop terrace in Nueva Andalucia - image 3
Balcon del Golf - Stylish Scandinavian 3-bed penthouse with rooftop terrace in Nueva Andalucia - image 4
Balcon del Golf - Stylish Scandinavian 3-bed penthouse with rooftop terrace in Nueva Andalucia - image 5
Balcon del Golf - Stylish Scandinavian 3-bed penthouse with rooftop terrace in Nueva Andalucia - image 6
Balcon del Golf - Stylish Scandinavian 3-bed penthouse with rooftop terrace in Nueva Andalucia - image 7
Balcon del Golf - Stylish Scandinavian 3-bed penthouse with rooftop terrace in Nueva Andalucia - image 8
Balcon del Golf - Stylish Scandinavian 3-bed penthouse with rooftop terrace in Nueva Andalucia - image 9
Balcon del Golf - Stylish Scandinavian 3-bed penthouse with rooftop terrace in Nueva Andalucia - image 10
Balcon del Golf - Stylish Scandinavian 3-bed penthouse with rooftop terrace in Nueva Andalucia - image 11
Balcon del Golf - Stylish Scandinavian 3-bed penthouse with rooftop terrace in Nueva Andalucia - image 12
Balcon del Golf - Stylish Scandinavian 3-bed penthouse with rooftop terrace in Nueva Andalucia - image 13
Balcon del Golf - Stylish Scandinavian 3-bed penthouse with rooftop terrace in Nueva Andalucia - image 14
Balcon del Golf - Stylish Scandinavian 3-bed penthouse with rooftop terrace in Nueva Andalucia - image 15
Balcon del Golf - Stylish Scandinavian 3-bed penthouse with rooftop terrace in Nueva Andalucia - image 16
Balcon del Golf - Stylish Scandinavian 3-bed penthouse with rooftop terrace in Nueva Andalucia - image 17
Balcon del Golf - Stylish Scandinavian 3-bed penthouse with rooftop terrace in Nueva Andalucia - image 18
Balcon del Golf - Stylish Scandinavian 3-bed penthouse with rooftop terrace in Nueva Andalucia - image 19
Balcon del Golf - Stylish Scandinavian 3-bed penthouse with rooftop terrace in Nueva Andalucia - image 20
Balcon del Golf - Stylish Scandinavian 3-bed penthouse with rooftop terrace in Nueva Andalucia - image 21
Balcon del Golf - Stylish Scandinavian 3-bed penthouse with rooftop terrace in Nueva Andalucia - image 22
Balcon del Golf - Stylish Scandinavian 3-bed penthouse with rooftop terrace in Nueva Andalucia - image 23
Balcon del Golf - Stylish Scandinavian 3-bed penthouse with rooftop terrace in Nueva Andalucia - image 24
Balcon del Golf - Stylish Scandinavian 3-bed penthouse with rooftop terrace in Nueva Andalucia - image 25
Balcon del Golf - Stylish Scandinavian 3-bed penthouse with rooftop terrace in Nueva Andalucia - image 26
Balcon del Golf - Stylish Scandinavian 3-bed penthouse with rooftop terrace in Nueva Andalucia - image 27
Balcon del Golf - Stylish Scandinavian 3-bed penthouse with rooftop terrace in Nueva Andalucia - image 28
Balcon del Golf - Stylish Scandinavian 3-bed penthouse with rooftop terrace in Nueva Andalucia - image 29
Balcon del Golf - Stylish Scandinavian 3-bed penthouse with rooftop terrace in Nueva Andalucia - image 30
Balcon del Golf - Stylish Scandinavian 3-bed penthouse with rooftop terrace in Nueva Andalucia - image 31
Balcon del Golf - Stylish Scandinavian 3-bed penthouse with rooftop terrace in Nueva Andalucia - image 32
Balcon del Golf - Stylish Scandinavian 3-bed penthouse with rooftop terrace in Nueva Andalucia - image 33
Balcon del Golf - Stylish Scandinavian 3-bed penthouse with rooftop terrace in Nueva Andalucia - image 34
Balcon del Golf - Stylish Scandinavian 3-bed penthouse with rooftop terrace in Nueva Andalucia - image 35
Balcon del Golf - Stylish Scandinavian 3-bed penthouse with rooftop terrace in Nueva Andalucia - image 36
Balcon del Golf - Stylish Scandinavian 3-bed penthouse with rooftop terrace in Nueva Andalucia - image 37
Balcon del Golf - Stylish Scandinavian 3-bed penthouse with rooftop terrace in Nueva Andalucia - image 38
Balcon del Golf - Stylish Scandinavian 3-bed penthouse with rooftop terrace in Nueva Andalucia - image 39
Balcon del Golf - Stylish Scandinavian 3-bed penthouse with rooftop terrace in Nueva Andalucia - image 40
Balcon del Golf - Stylish Scandinavian 3-bed penthouse with rooftop terrace in Nueva Andalucia - image 41
Balcon del Golf - Stylish Scandinavian 3-bed penthouse with rooftop terrace in Nueva Andalucia - image 42
Balcon del Golf - Stylish Scandinavian 3-bed penthouse with rooftop terrace in Nueva Andalucia - image 43
Balcon del Golf - Stylish Scandinavian 3-bed penthouse with rooftop terrace in Nueva Andalucia - image 44
Balcon del Golf - Stylish Scandinavian 3-bed penthouse with rooftop terrace in Nueva Andalucia - image 45
Balcon del Golf - Stylish Scandinavian 3-bed penthouse with rooftop terrace in Nueva Andalucia - image 46
Balcon del Golf - Stylish Scandinavian 3-bed penthouse with rooftop terrace in Nueva Andalucia
Experience the Ultimate Holiday Home and Investment Opportunity – 3-Bed Penthouse with Rooftop Terrace, Garage, and Sea Views in Nueva Andalucia! Rarely does a property of this caliber become available at such an attractive price point. This stunning penthouse boasts a bright and open floor plan with Smeg appliances, custom-designed furniture, and dimmable lights throughout.
The true gem of the property is the breathtaking rooftop terrace, equipped with an outdoor kitchen and shower, offering stunning sea views. With a garage for 2 cars, this turn-key apartment offers a unique investment opportunity in one of the most desirable areas of Nueva Andalucia.
€650,000
Ref HRB-00107P
Penthouse
Nueva Andalucia, Marbella
3 beds
2 baths
1 on suite
132 m2 build
84 m2 interior
54 m2 terraces
Pool (Communal)
Garden (Communal)
Garage (Private)
Built in 1995
92 €/m Community
525 €/y IBI
85 €/y Gargabe
Features
Private terrace
Kitchen equipped
Living room
Close to shops
Close to town
Close to port
Close to schools
Sea view
Mountain view
Pets allowed
Internet - Wifi
Fitted wardrobes
Panoramic view
Amenities near
Street view
Air conditioning
Central heating
Fully furnished
Fully fitted kitchen
Close to children playground
Close to sea / beach
Close to golf
Glass Doors
Storage room
Alarm
Balcony
Solarium
Excellent condition
Barbeque
Recently Renovated / Refurbished
€

650000

Price

132

m2 Sqm

3

Beds

2

Baths

Nueva Andalucia

Location

HRB-00107P

Ref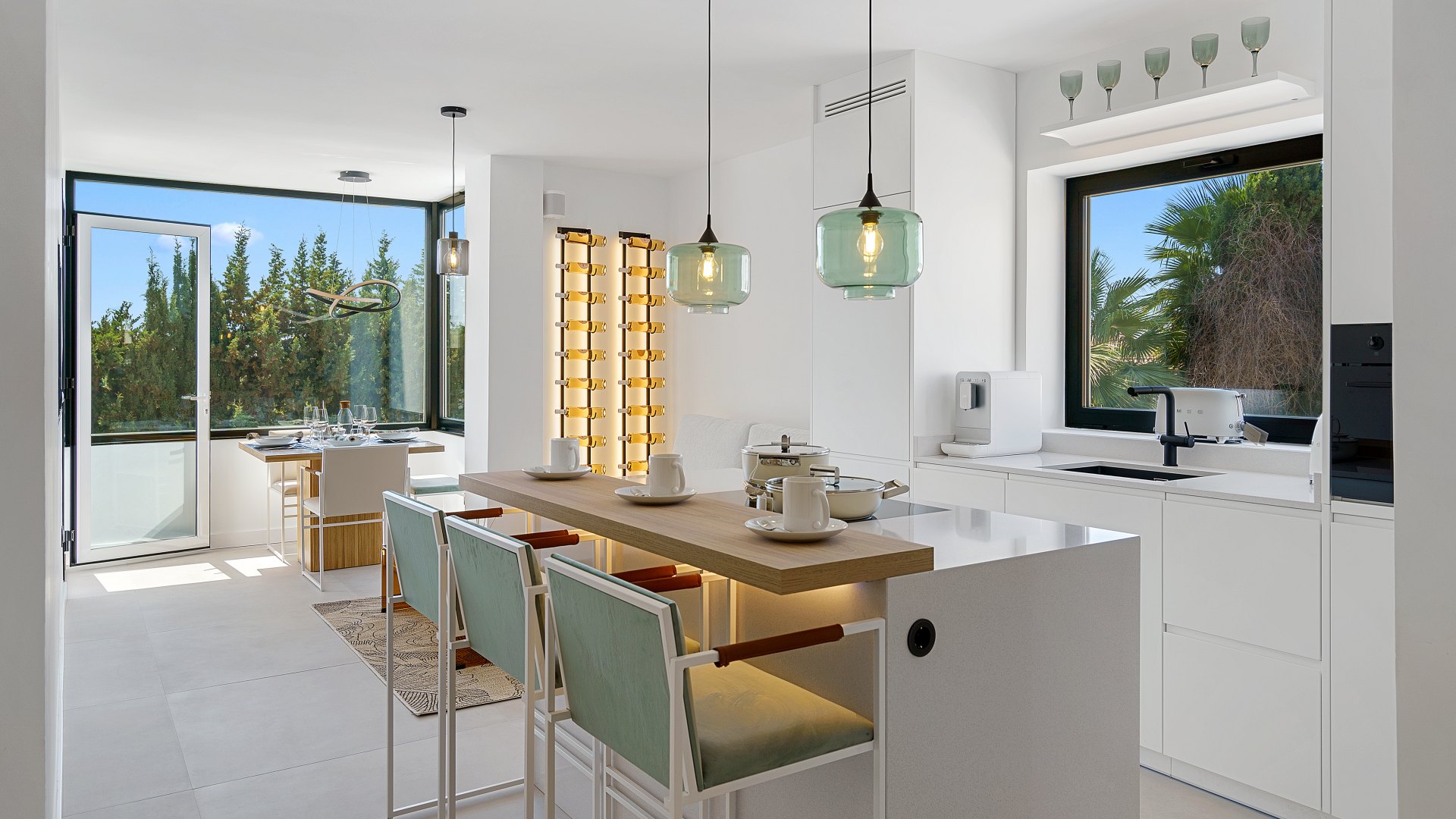 Related
properties
Similar Properties for sale in Nueva Andalucia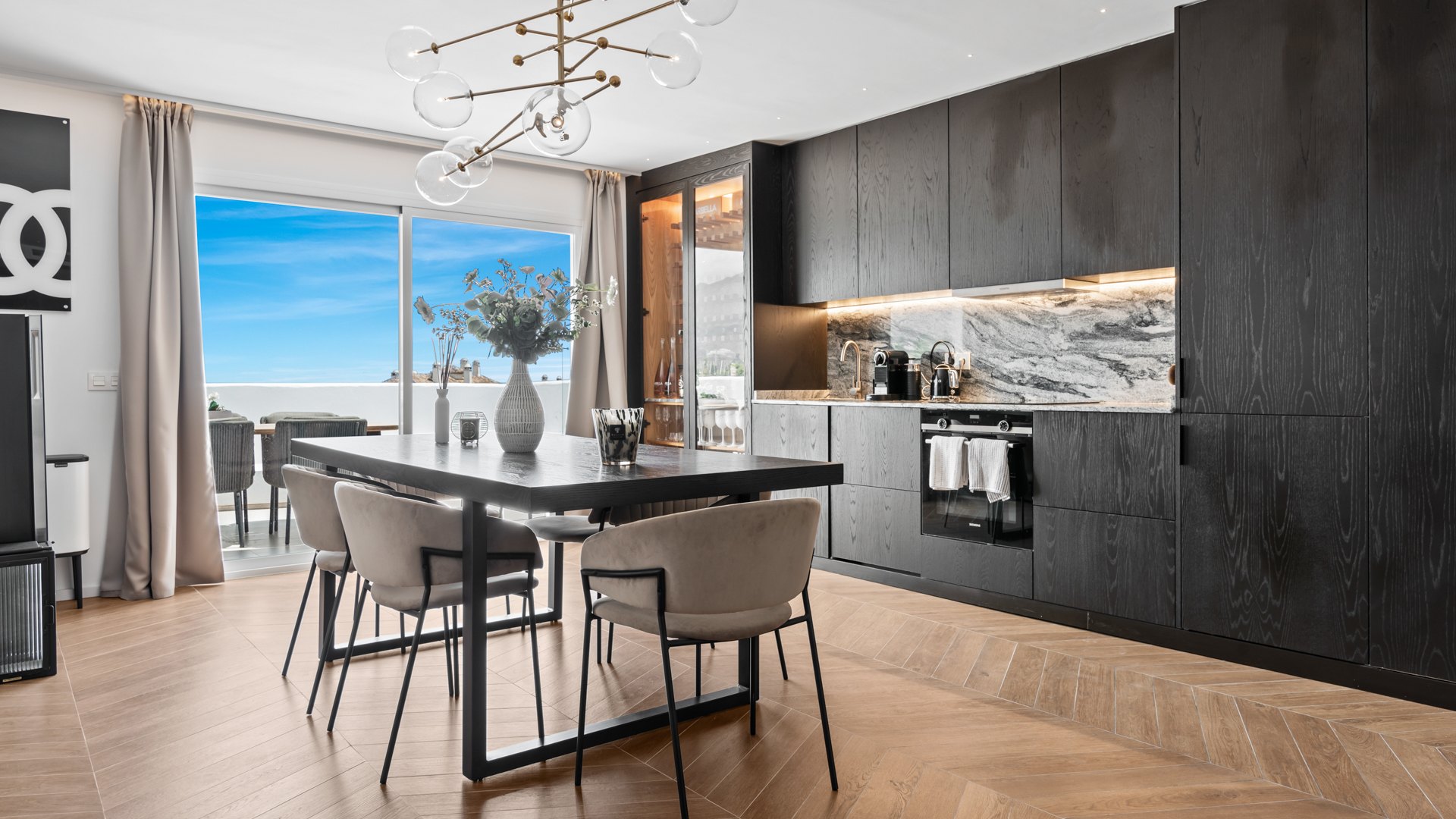 Stylish recently refurbished penthouse located in Jardines de Andalucia, an attractive and gated urbanization in central Nueva Andalucia, around the corner from supermarkets, restaurants, and...
More Details
Blog Related
blogs
As you discover this stunning Penthouse in Jardines de Andalucia, our target is to provide insights & tips that serve as your personal guide, ensuring well-informed decisions. At Homerun Brokers, we're not just selling homes, but embracing a lifestyle we love, helping you transform your dreams into reality.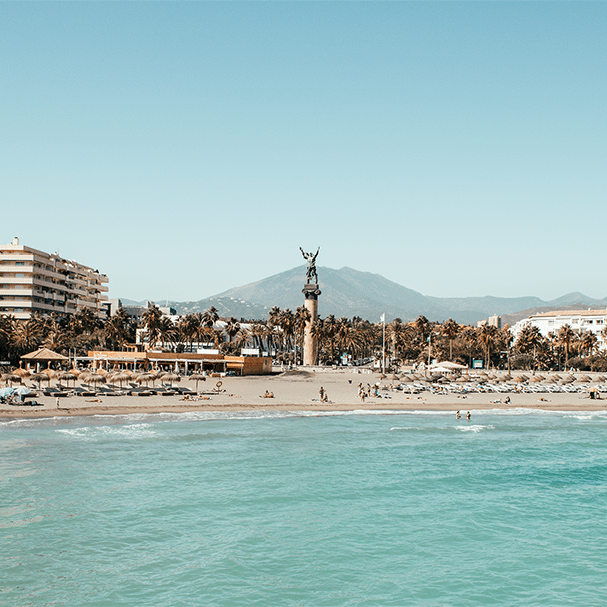 Changing to clean electricity in your Marbella property has never…
Read
Read our blog