Delightful family Villa in El Paraiso - image 0
Delightful family Villa in El Paraiso - image 1
Delightful family Villa in El Paraiso - image 2
Delightful family Villa in El Paraiso - image 3
Delightful family Villa in El Paraiso - image 4
Delightful family Villa in El Paraiso - image 5
Delightful family Villa in El Paraiso - image 6
Delightful family Villa in El Paraiso - image 7
Delightful family Villa in El Paraiso - image 8
Delightful family Villa in El Paraiso - image 9
Delightful family Villa in El Paraiso - image 10
Delightful family Villa in El Paraiso - image 11
Delightful family Villa in El Paraiso - image 12
Delightful family Villa in El Paraiso - image 13
Delightful family Villa in El Paraiso - image 14
Delightful family Villa in El Paraiso - image 15
Delightful family Villa in El Paraiso - image 16
Delightful family Villa in El Paraiso - image 17
Delightful family Villa in El Paraiso - image 18
Delightful family Villa in El Paraiso - image 19
Delightful family Villa in El Paraiso - image 20
Delightful family Villa in El Paraiso - image 21
Delightful family Villa in El Paraiso - image 22
Delightful family Villa in El Paraiso - image 23
Delightful family Villa in El Paraiso - image 24
Delightful family Villa in El Paraiso - image 25
Delightful family Villa in El Paraiso - image 26
Delightful family Villa in El Paraiso - image 27
Delightful family Villa in El Paraiso - image 28
Delightful family Villa in El Paraiso - image 29
Delightful family Villa in El Paraiso - image 30
Delightful family Villa in El Paraiso - image 31
Delightful family Villa in El Paraiso - image 32
Delightful family Villa in El Paraiso - image 33
Delightful family Villa in El Paraiso - image 34
Delightful family Villa in El Paraiso - image 35
Delightful family Villa in El Paraiso - image 36
Delightful family Villa in El Paraiso - image 37
Delightful family Villa in El Paraiso - image 38
Delightful family Villa in El Paraiso - image 39
Delightful family Villa in El Paraiso - image 40
Delightful family Villa in El Paraiso - image 41
Delightful family Villa in El Paraiso - image 42
Delightful family Villa in El Paraiso - image 43
Delightful family Villa in El Paraiso - image 44
Delightful family Villa in El Paraiso - image 45
Delightful family Villa in El Paraiso - image 46
Delightful family Villa in El Paraiso - image 47
Delightful family Villa in El Paraiso - image 48
Delightful family Villa in El Paraiso - image 49
Delightful family Villa in El Paraiso - image 50
Delightful family Villa in El Paraiso - image 51
Delightful family Villa in El Paraiso - image 52
Delightful family Villa in El Paraiso - image 53
Delightful family Villa in El Paraiso - image 54
Delightful family Villa in El Paraiso
A luxury 3 level villa in the Urbanisation of El Paraiso, ideally situated just 15 minutes from Marbella centre and 10 minutes from Puerto Banus. With its South West orientation the ville offers sea, mountain and golf views for you to enjoy with your family. Because of the entertainment area with a pool table & cinema, together with BBQ and pool area this is the perfect house for a family vacation.
5 bedrooms, 5 bathrooms, 5 parking spaces and full privacy.
Ref HRB-00038P
Villa
El Paraiso, Estepona
5 beds
5 baths
450 m2 build
1250 m2 plot
Pool (Private)
Garden (Private)
Garage (Private)
Features
Amenities near
Saltwater swimming pool
Gym
Air conditioning
Sea view
Mountain view
Barbeque
Heated pool
Garden view
Pool view
450

m2 Sqm

1250

m2 Plot

5

Beds

5

Baths

El Paraiso

Location

HRB-00038P

Ref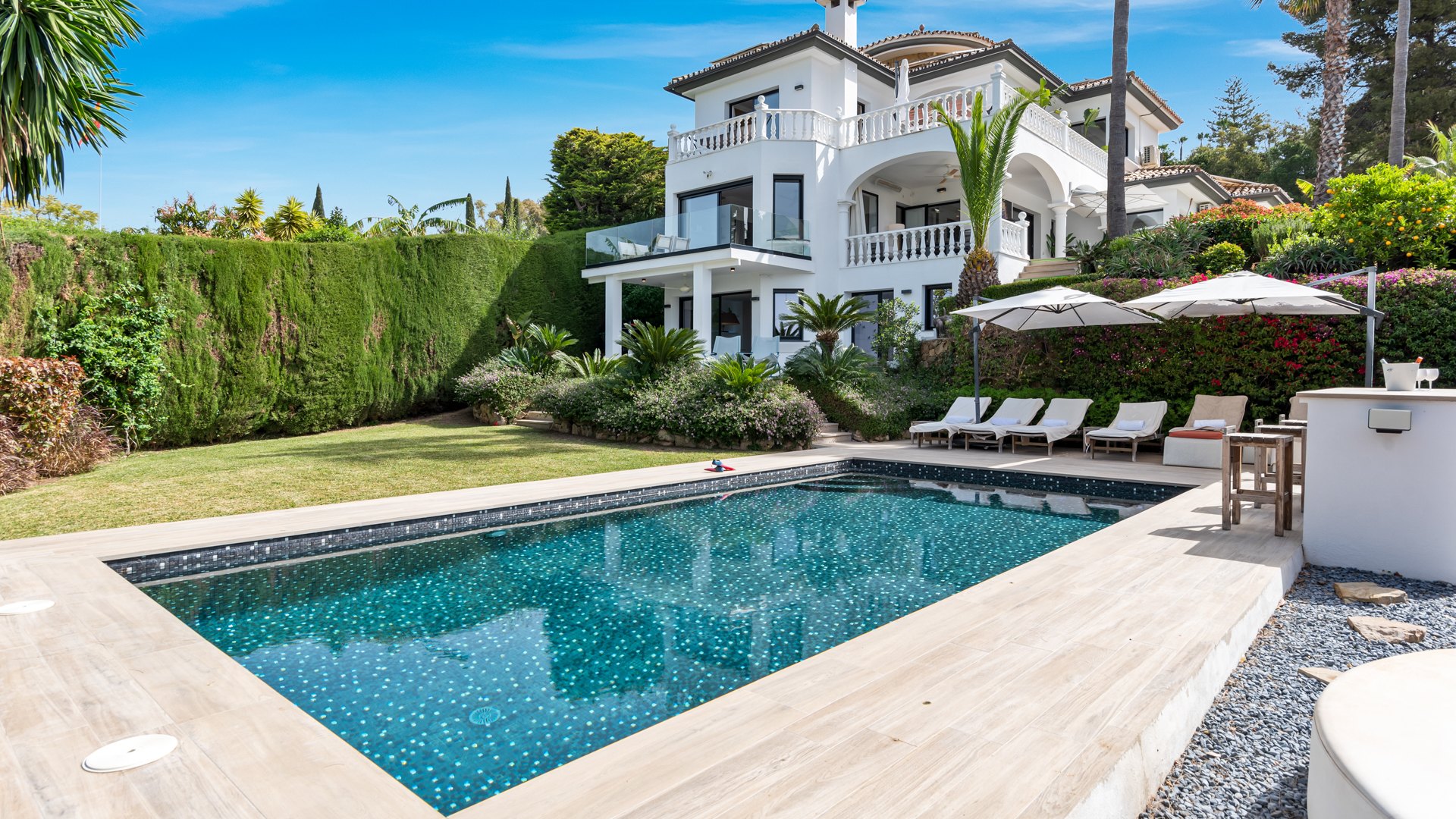 Related
properties
Similar Properties for short term rent in El Paraiso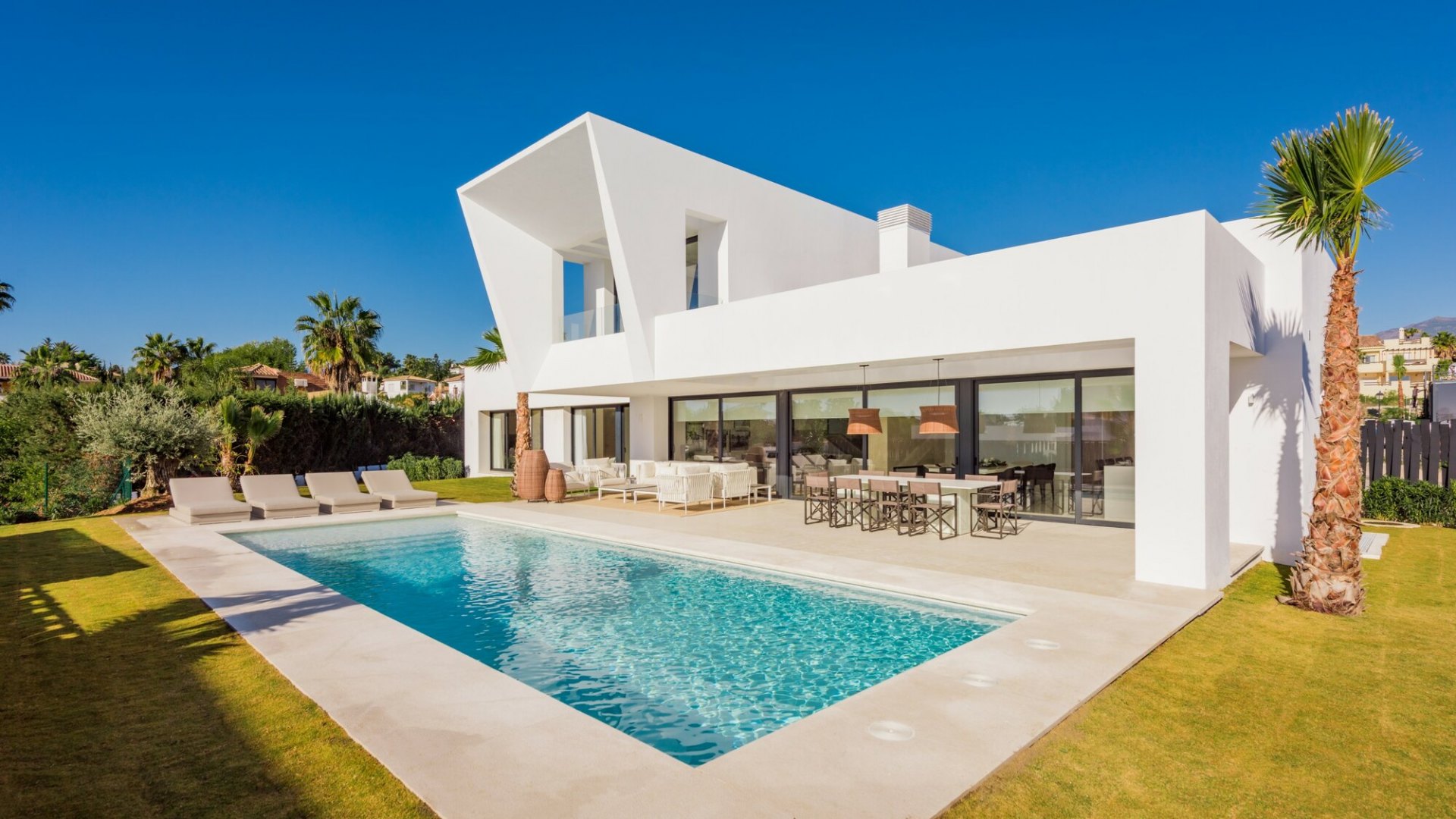 For rent is this modern 4 bedroom, 5 bathroom villa in El Paraiso. Recently constructed and offering a home gym, cinema lounge, sauna, swimming pool...
More Details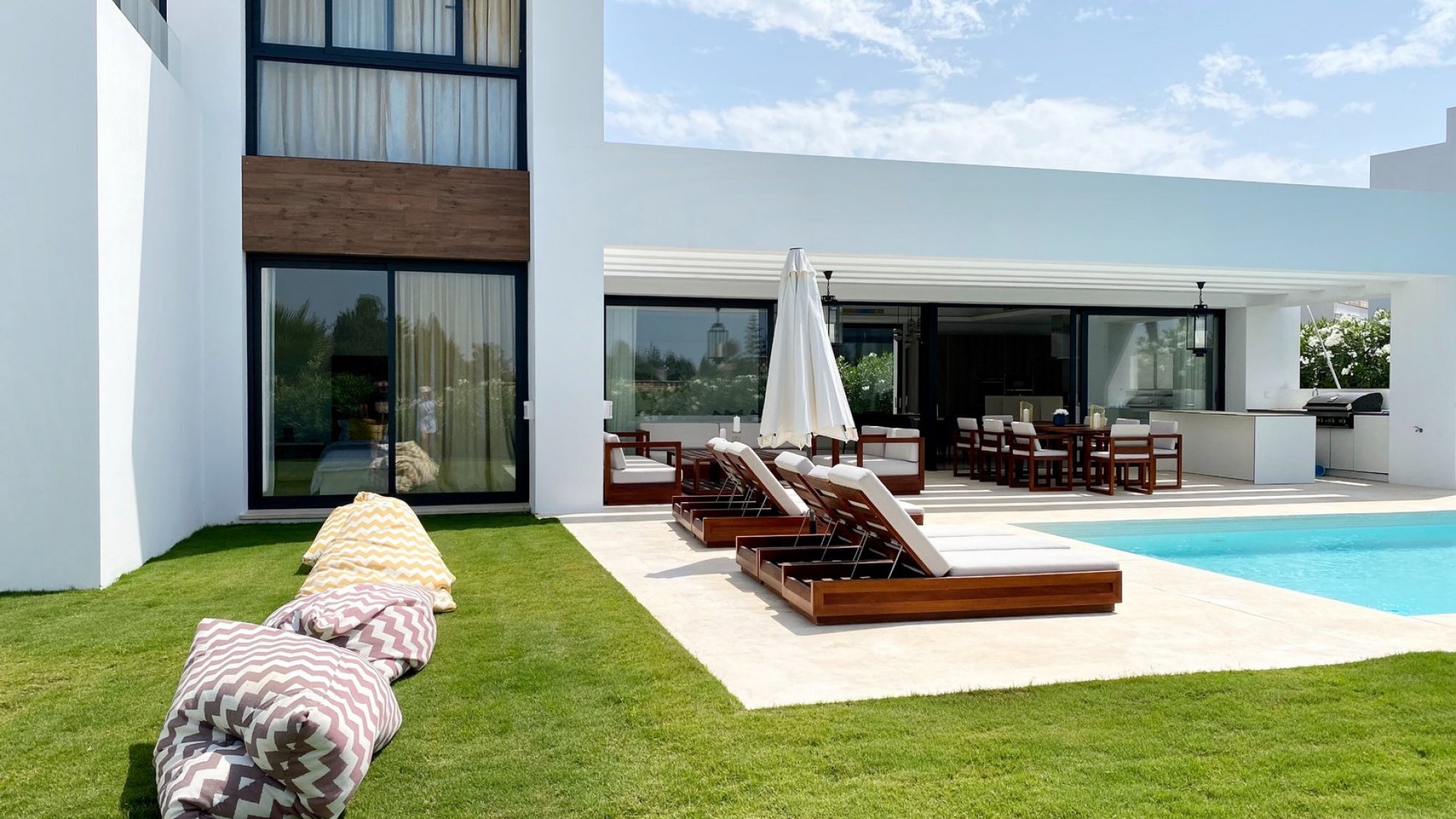 Villa located in the heart of El Paraiso, a well-established area between Marbella and Estepona offering close proximity to all amenities and golf courses -...
More Details